David Beckham threat does not worry Joey Barton
Last updated on .From the section Football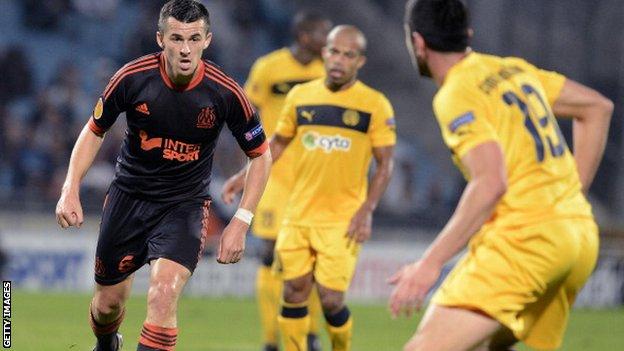 Joey Barton does not believe Paris St-Germain's marquee signing David Beckham will be a big threat to Marseille when the teams meet on Sunday.
"I don't mean any disrespect, but he is not as scary as when he was playing in the Premier League," said Barton, who could line up against his compatriot.
"He is not our main concern. It would be naive from us to focus on him."
The former England captain has joined the likes of striker Zlatan Ibrahimovic, defender Thiago Silva and winger Lucas at the ambitious Qatari-backed side.
"PSG have a lot of stars, Beckham is the latest," added Barton, who is on loan at the south-coast club from Queens Park Rangers.
"We are totally opposite characters, Beckham and I. I take it as a compliment. Sometimes I'd like to have a bit of positive media comments, but I don't envy the intrusions into the private life."
PSG boss Carlo Ancelotti revealed the ex-Manchester United and Real Madrid midfielder would be ready "not necessarily to start, but to play" during the clash with third-placed Marseille.