Arsenal: Arsene Wenger should not be sacked - Vermaelen
Last updated on .From the section Football462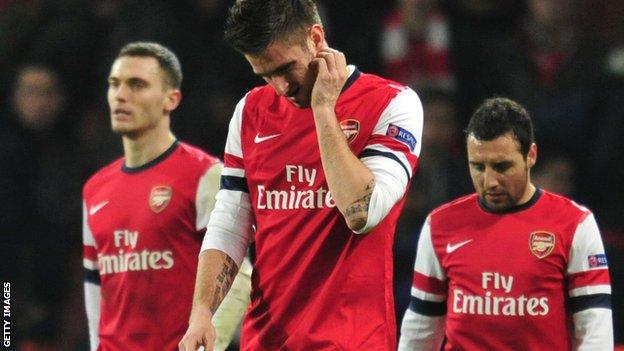 Arsenal captain Thomas Vermaelen says he is stunned by suggestions that manager Arsene Wenger should be sacked.
This followed a 1-0 home loss to Championship Blackburn in the FA Cup.
Asked if he was shocked Wenger's future is being questioned, Vermaelen said: "I am actually. Everyone in football looks too short term."
He added: "They don't look at the long term and he's done a lot for this club. He is the right man for this club and we are all behind him."
Winger Theo Walcott said: "We've got the best man in the job to get our heads back to where they should be. I've played a lot of games in the Champions League and I know how things go.
"We need to react in a positive way straight away. We can't be down in the dumps in training. Everybody needs to be alive and alert, recover well."
With an uphill battle to qualify for the Champions League quarter-finals, Arsenal are now facing the possibility of an eighth successive season without a trophy.
They are 21 points behind leaders Manchester United in the Premier League and were knocked out of the Capital One Cup by League Two Bradford at the quarter-final stage.
But it is understood senior figures at Arsenal have no intention of sacking their 63-year-old manager - even if they fail to qualify for next season's Champions League.
On Monday Wenger became angry at a news conference over a report he would be offered a new contract, claiming it intended "to harm".
Following the defeat by Bayern Munich, some newspapers suggested that Wenger should consider his position.
But Arsenal midfielder Jack Wilshere said that Wenger was not to blame for the team's poor results.
Vermaelen agreed, saying: "We have to show it on the pitch as well. At the moment the results are not good. But we will work hard with him to get the results back."
"It doesn't mean that because it's not going well at the moment we don't stand behind him."
The defender has also asked that the club's fans stay patient despite the poor run of form.
"The fans must not forget that we need them because they belong to the team and to the club," he said.
"Sometimes, as a player, you are frustrated as well. If you lose you get frustrated but it's not the right thing to act on. We have to stick together, work hard. We need each other.
"Of course we are not happy. Don't look at each other, don't blame each other, work hard every day to get the results back."