Luis Suarez: Steven Gerrard puts Liverpool striker in world's best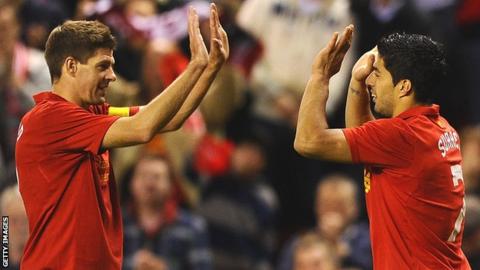 Liverpool captain Steven Gerrard believes "only one or two" players in world football have performed better than Luis Suarez in recent months.
The Uruguay striker, 26, has scored 23 goals for the Reds this term, including 18 in the Premier League.
Gerrard told BBC Radio Merseyside: "For me he's been player of the year, across this league and a lot more leagues.
"There are probably only one or two people who you could say have been better than him this season."
England skipper Gerrard added: "How much better can he get? I'm not sure, but it's a scary thought if he does improve on how he's been performing this season."
Only Manchester United's Robin van Persie (19) has scored more goals in the top flight this season than Suarez, who cost Liverpool £22.7m in January 2011.
Suarez was among 15 forward players named on the shortlist for the Fifa FIFPro World XI in 2012 but which did not include any representatives from the Premier League.
Liverpool face Zenit St Petersburg in the second leg of their Europa League tie at Anfield on Thursday.
but Gerrard, so often the talisman on big European nights, is hopeful that Suarez can produce "a bit of magic" to see Liverpool through to the last 16.
"You remember top players for games like this - important goals and big performances that turn situations in your favour," said Gerrard.
"We're all there behind him as well - he's not on his own - but I'd love nothing better than for this game to be decided on a bit of magic or brilliance from him. With the season he's had, I think he does deserve it."
The Europa League is Liverpool's only hope of silverware this season, having seen their reign as League Cup holders ended by Swansea and then being knocked out of the FA Cup by League One side Oldham.
They lie seventh in the Premier League table, nine points behind fourth-placed Tottenham, with Gerrard citing individual errors as one of the main factors in the club's inconsistency.
"It's the reason why we're fighting for one cup at the moment and it's the reason why we're sitting where we are in the league," said the 32-year-old midfielder.
"We're playing fantastic football and we're performing really well, but it seems as if we're taking two or three steps forward and then one back. That's because of individual errors throughout the team and I think we've all been guilty of that at various stages of the season.
"There have been performances that have been up there with the best I've experienced as a Liverpool player.
"We've blown teams away and we've murdered teams in possession. If they were boxing matches, the towel would have gone in before the final whistle.
"But the frustrating thing is that on the back of those fantastic performances, this team hasn't turned up or we've made stupid schoolboy errors which have led to bad results.
"They're the performances we need to eradicate if we're going to become a top side and mix it with the best, both domestically and in Europe."