Ex-Liverpool striker Dirk Kuyt flying high in Turkey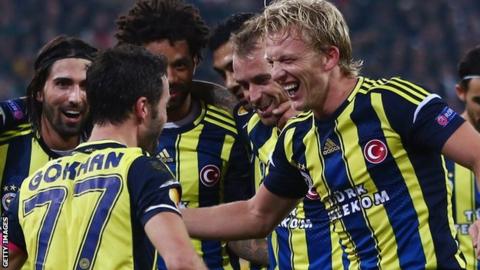 Europa League last 32 second legs
Date:

Thursday 21 February

Coverage:

Live text commentary on the BBC Sport website
In his six years at Liverpool Dirk Kuyt played in many positions.
The Dutchman was deployed as a central striker before playing as a wide attacker or winger - but, above all, he was a trier.
A hat-trick against Manchester United helped, but Kuyt earned the love of the Anfield crowd through sweat and effort rather than sweeping them off their feet with a silky touch or heady rush of goals.
The industrious, whole-hearted way he played on the pitch seemed to mirror the man off it.
Kuyt, the son of a trawlerman, has spoken with pride of his working-class values, while his wife Gertrude continued her career in care of the elderly until the birth of their second child.
Seven years ago the pair, deciding they wanted to do more charity work than their club duties demanded, set up a foundation to help disabled children enjoy sports.
Last summer Kuyt, with nearly 32 years on the clock and a settled life on Merseyside, contemplated the year remaining on his Liverpool contract.
Staying at the club, with the possibility of a more lucrative move in 12 months' time, would have been the easy option.
But that nagging work ethic would not let him take it.
"I had six wonderful years but in the last year I was not playing as much as I wanted to play," he told BBC Sport.
"I always respect the decision of the club and the managers but I didn't want to see myself on the bench watching football.
"I will be a Liverpool supporter all my life - but after my career I can spend time sitting down watching games."
Kuyt can cite the statistics that backed up his belief that he still had something to offer.
He was Liverpool's top-scorer, and provided more Premier League assists than anyone else at the club, in the 2010-11 season.
Yet he found himself among Kenny Dalglish's substitutes for much of the following campaign.
Had he stayed for the current season under Brendan Rodgers, Kuyt would have eased the shortage of strikers and senior heads among the Liverpool squad.
Instead, amid offers from across Europe, he opted to scratch a footballing itch.
"When I was younger there was a match between Feyenoord, my team in Holland, and Fenerbahce, [a Champions League meeting in August 2002] and I was impressed by the fans and the atmosphere of that game," explained Kuyt.
"From that moment I followed the team a little bit more and after that my friend and colleague Pierre Van Hooijdonk went there and played for two or three years at Fenerbahce.
"It was always an interesting club for me, but I never thought I would play for them until I decided to leave Liverpool and they were really interested.
"The emotion and the atmosphere here is something I really like, it is something completely different.
"In England everyone breathes football and here it is the same, but in a different way. That was what I was looking for something else, a different culture, another competition."
The chance to experience a new culture is often sportsman-speak for more material motivation, but Kuyt greeted fans at his unveiling with a smattering of Turkish and met with the country's prime minister as part of a Dutch diplomatic delegation.
On the pitch his trademark commitment continues, with a healthy eight goals in 27 games.
In return, Fenerbahce offered Kuyt wages that former club Feyenoord could not afford, and the Champions League football that Liverpool could not match.
It is a package that convinced Didier Drogba and Wesley Sneijder , as well as Kuyt's once-Liverpool, now Fenerbahce team-mate Raul Meireles, to also move to Turkey.
"The league in Turkey is well respected and I think the Turkish people want to convince the rest of Europe that they are a football country and become well known by other countries," said Kuyt.
"They want to prove themselves not only in the Champions League but also in the Europa League."
As Turkish football polishes its image, Kuyt's move gives him fresh perspective on a final season in England in which the usually self-confident national game was forced into a period of introspection.
First on the scene in an attempt to cool the infamous confrontation between Liverpool striker Luis Suarez and Manchester United defender Patrice Evra, Kuyt was also one of the Liverpool players who comforted Oldham's Tom Adeyemi in the wake of alleged racial abuse at Anfield.
But Kuyt still believes that generally English football's health is sound.
"I think that in England the players, but also the supporters, have a lot of respect for each other and the game. It doesn't matter if you are black or white or what religion you have got.
"There are so many people watching football, there are so many cameras on us, sometimes people make things really big, but what I saw in England in six years playing for Liverpool was that there was always a lot of respect."
Kuyt describes the Suarez and Evra incident and its aftermath as "one of the most disappointing things I have been through in my career at Liverpool", while offering a stout defence of Suarez as a "good man" with "no bad intention whatsoever" off the pitch.
Kuyt is just as loyal to the managers he left behind on Merseyside.
The departure coincided with Dalglish's exit and Brendan Rodgers' arrival and was portrayed by some as a vote of no confidence in the new man, or a breakdown in relations with the old.
Kuyt says it was neither.
"Brendan Rodgers was actually quite good to me because he was one of the first people to ring me and wish me all the best with my career," he said.
"I think he is a very good manager and it is difficult sometimes but I think if they give him the time he can build a good team.
"They have very good games with some disappointing results. What I can make of it from here is that they are building a team and when you are doing that there can be ups and downs.
"We were very successful in the cup games under Kenny, but we had difficulties in the league and that is the problem in England.
"There are so many good teams that it is difficult to get on towards the Champions League."
Establishing home in Turkey has prevented Kuyt making a planned return to say farewells and thank yous to old fans and friends in Liverpool - but he could yet make it back on a business trip.
Both Liverpool and Fenerbahce face tricky assignments in their last-32 Europa League ties, with the Turkish side held by BATE Borisov and Liverpool losing to Zenit St Petersburg in Russia.
However, if both manage to progress, they could be drawn together from the quarter-final stage, allowing Liverpool fans the chance to show their appreciation for Kuyt's application one final time.