Reading boss Brian McDermott dismisses 'six-pointer' talk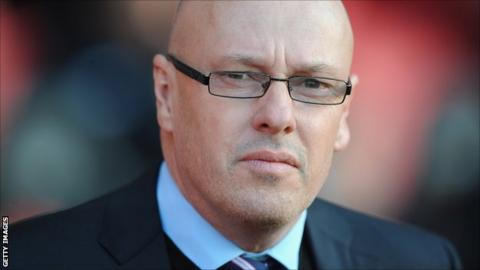 Reading boss Brian McDermott says Saturday's home game with Wigan is not a "six pointer" and insists he does not worry about the league table.
Reading are third from bottom, two points above 19th-placed Wigan, and one point off safety.
"I don't know what six pointers mean," McDermott told BBC Radio Berkshire.
Asked if it was "only human to worry about the league table", he replied: "I can't be human. I don't think about other teams. It keeps me focused."
There are 12 games left but McDermott says they are all equally important and added their 3-2 defeat to Wigan earlier in the season would also have no impact on their performance.
"There is no such thing as a six pointer in my mind," he added.
"'Must-win games', I don't know what that means either. It's the next game and I'm looking forward to it. I can't wait to get going.
"The game at the DW will have nothing to do with Saturday, we've moved on, results have been good since and we learnt from it."
Most Premier League clubs set an unofficial target of 40 points to achieve safety but McDermott says he has not looked that far ahead.
His side currently have 23 points with 36 available from their remaining games and he believes their fans could make all the difference.
"I've got no points target in my mind," he said. "No idea. We'll just try and win this one this weekend.
"Our performance against Manchester United (in the FA Cup) was a confidence booster. Our record in the past three years at the Madejski is phenomenal, the fans make such a difference, they probably don't realise how much a difference they make.
He added: "What anybody else does is irrelevant, we can't effect any body else's results, just our own."