Peter Ndlovu to face trial over fatal Zimbabwe car accident
By Steve Vickers
BBC Sport, Harare
Last updated on .From the section Football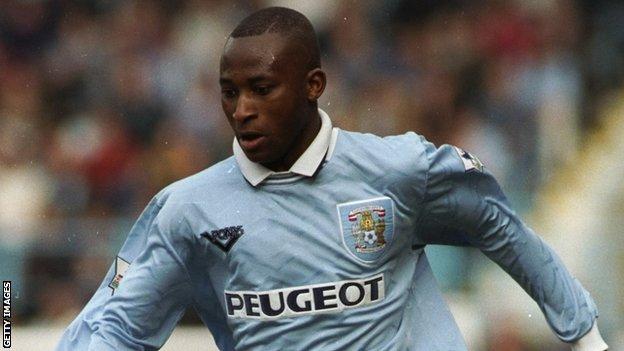 Former Zimbabwe and Coventry City footballer Peter Ndlovu will face trial next month on charges of culpable homicide, following the car accident that took the life of his brother Adam.
Ndlovu was seriously injured in the accident outside Victoria Falls town in December, in which a female passenger, Nomqhele Tshili, was also killed.
The former winger's car veered off the road at speed and crashed into trees.
Tshili was killed instantly and Adam died on his way to hospital.
Despite suffering head, leg and internal injuries, Ndlovu has made a good recovery and is no longer walking on crutches.
His trial was postponed to 23 March after he appeared at Victoria Falls Magistrates Court, and he was remanded out of custody after his lawyer was unable to attend the trial.
The charges against Ndlovu are that while driving his BMW X5 vehicle he failed to negotiate a curve outside Victoria Falls and lost control of the vehicle.
He is expected to plead not guilty.
Ndlovu, 39, played in England for 13 seasons from 1991, for Coventry City, Birmingham City, Huddersfield Town and Sheffield United.
He is currently an assistant coach of the national team, and made 100 appearances for Zimbabwe, captaining the Warriors at the 2004 and 2006 editions of the Africa Cup of Nations.