Paolo Di Canio promises 'truth' in response to Swindon statement
Last updated on .From the section Football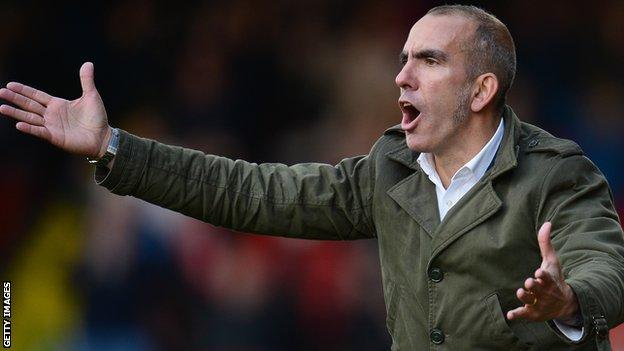 Former Swindon manager Paolo Di Canio insists he will reveal "the truth" about his time at the Wiltshire club.
A local consortium completed their takeover of the Robins on Thursday, three days after Di Canio quit his job.
Outgoing chairman Sir William Patey criticised the Italian for "walking out on the club" before the team beat Tranmere to move top of League One.
But Di Canio said: "The players and fans will find out what has really happened over the last 18 months."
He added: "The club have put out a wholly misleading version of events."
Banbury United owner Jed McCrory, along with Steve Murrall, Gary Hooper and Callum Rice, have bought 99% of the club's shareholding from previous owner Andrew Black. It was completed after receiving approval from the Football League on Thursday.
In a statement released by the club following the takeover, Patey added: "The club's position at the top of the table is a testament to the efforts of those who will now go forward with the new owners.
"Losing our manager is obviously a disappointment but, as the result at Tranmere shows, Swindon is bigger than any one person."
Di Canio, 44, responded by releasing his own statement later on Thursday, saying he was "very disappointed" by Patey's comments.
His former assistant Fabrizio Piccareta oversaw Tuesday's 3-1 win over Tranmere, before Piccareta announced that he and other members of Di Canio's backroom staff would resign the following day.
On Wednesday, Swindon announced midfielder Tommy Miller and defender Darren Ward, both 34, had taken temporary charge.
"The comments are disrespectful to the efforts, commitment and achievements that my team, my staff and I have put in and achieved since I became the manager of the club," added Di Canio, who played for Celtic, Sheffield Wednesday and West Ham.
"I will respond fully in due course but at this point I do not want to make any further comments."