David Beckham and Joey Barton set for PSG versus Marseille test
Last updated on .From the section Football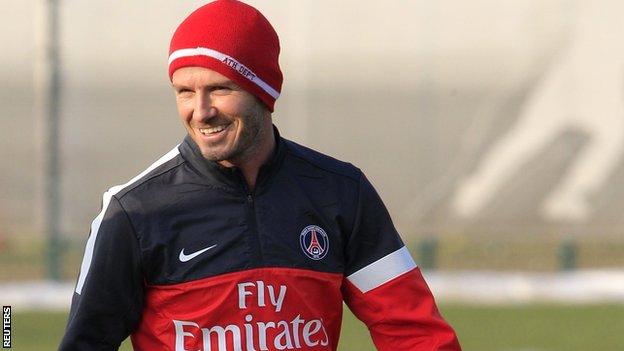 It is a fixture which has captivated French football supporters - Paris St-Germain against Marseille and David Beckham versus Joey Barton.
The two biggest rivals in France are set to clash at Parc des Princes on Sunday, with the English influence of Beckham and Barton adding even more interest to the encounter between the Ligue 1 leaders PSG and third-placed Marseille.
The front page of Friday's France Football depicts the clash as an angel (Beckham) against a devil (Barton).
As the magazine suggests, the common perception of the players is that of two very different men. On the one hand there is the clean-cut Beckham playing for free at PSG and donating his wages to charity.
By contrast, Barton left England still serving a 12-match ban after being found guilty of two counts of violent conduct while playing for Queens Park Rangers against Manchester City.
However, in their own, unique way, both players are quickly becoming popular in their new surroundings.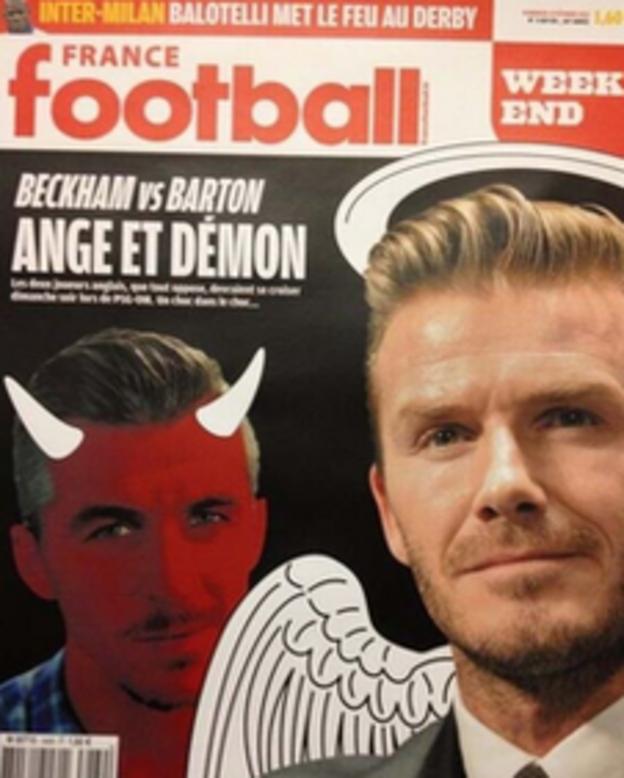 Speaking about Beckham's arrival in France, Philippe Auclair, England correspondent for France Football magazine, said: "It's been pure hysteria, hyperbole, a media attention that I've never seen a sportsman being the object of.
"Some French media have now put in place cells of journalists who do nothing but track Beckham and try to get Beckham stories.
"The game is at 9pm on Sunday which is the big slot for us, it will be live on television. They put 40 cameras around the stadium and one of them is called the 'Beck Cam'.
"It will do nothing but follow David - even if he doesn't play. It will track Beckham from the training ground, on the bus and at the ground. It's crazy. It's actually starting to get up a few people's noses."
And while Beckham fever has gripped Paris, it appears Barton has also been well received, for much different reasons, in Marseille.
"Marseille love a crazy guy, they like people off the wall - Eric Cantona and Fabien Barthez come to mind," said Tony Cascarino, who played for Marseille between 1994 and 1997.
"It's D-day for Joey, he has to make it work in France. I don't think there is a place in England for him, there are too many clubs and too many scars because of the damage he has done.
"I hope he goes to France, grasps the fantastic opportunity and makes the most of it."
Auclair says Barton, who has picked up one red card already this season, is becoming a key figure for his new team and agrees that he is popular with Marseille supporters.
"The fans love him," said Auclair. "There are loads of bad boys in the stands at the Velodrome and they recognise him as one of their own.
"He's been influential; he's brought something that the team didn't have before in terms of steel and leadership in midfield which is why he had been loaned from QPR.
"So far if you would give him marks out of 10 you would give six or seven - which is perhaps more than people would've thought."
Should Beckham play, it will be his first appearance since signing for the club on the final day of the January transfer window while Barton has been with Marseille since the end of August 2012.
In the build-up to the match, Barton said Beckham is "not as scary as when he was playing in the Premier League" and suggested Marseille will not be too worried about the former England captain's influence.
However, Cascarino believes Barton should be affording more respect than he has shown so far towards Beckham.
"Why would you say that David is nothing to worry about anymore?" added Cascarino.
"I think Joey should be polite to David, who has won more than 100 caps for England, played in numerous countries, scored goals at the highest level and won lots of cups and titles."
PSG, who are managed by former Chelsea boss Carlo Ancelotti after being bought by wealthy Qatari owners in 2011, are five points clear of Marseille and hoping for their first Ligue 1 title since 1994.
The rivalry between the two clubs is the biggest in France - and one which has grown in recent history.
"It is huge," said Auclair. "PSG was formed and grew in the 1970s while Marseille is one of the great historical clubs in France - it has had a huge fanbase for longer than PSG.
"Marseille thinks that it is a bit outside of France, in a world of its own - a little bit like Liverpool does - and that by confronting Paris, it's like the two French capitals fighting against one another.
"PSG has always been about glamour - when they started they were supported by film stars etc. Marseille has always been the club which is famous for its gangs of ultras and its working class foundation and support."
The rivalry is helping rebuild the profile of French football - and the influence of Barton and Beckham can only add to that, says ex-France international David Ginola.
"It's not often you have two English players playing against each other in the French league - I think it's a first," said the former PSG forward.
"It will be interesting if they play against each other, how they will manage and what the result will be.
"It makes the game more interesting for people in France because we have been down in football for a while and when you see the Premier League you see that French football needs a boost. This game can do that."