Mario Balotelli back in the middle of Inter-AC Milan rivalry
By James Horncastle
European football writer
Last updated on .From the section Football60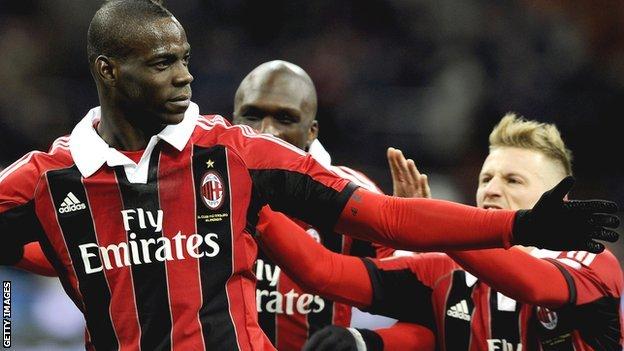 "If you were to score in the derby, what would you do? Celebrate?" It was inevitable this question would be asked at Mario Balotelli's first press conference as a Milan player.
Inter fans knew what their former striker was about to say. "I'd celebrate, yes," Balotelli replied. There was no malice or mischief in his voice. It was an honest answer and came as no surprise.
Balotelli has never hidden the fact he's a Milan fan. Legend has it that as a nine-year-old he partied like it was 1999 when they won the Scudetto under Alberto Zaccheroni that season with a team featuring Paolo Maldini, Zvonimir Boban, Oliver Bierhoff and George Weah.
Wearing that famous shirt one day seemed like his destiny even when he was at Inter. On a visit to a foundation to do some charity work in 2009, one kid asked Balotelli which team he supported. "Milan," he answered, "Didn't you know?" Another of those gathered retorted: "Why do you play for Inter then?" Why, indeed.
After Balotelli's £19m move from Manchester City to Milan, Marco Materazzi told a story about their time at Inter. Balotelli showed up for training once with a pair of Milan socks on. "I cut them in half," Materazzi grinned.
Who he supported wasn't always a laughing matter, however.
When Balotelli pulled on a Milan shirt for satirical show Striscia La Notizia - under the assumption that the cameras were switched off - there was outrage. A month later he threw his Inter jersey to the ground following the final whistle of the first leg of their Champions League semi-final against Barcelona in April 2010 and La Gazzetta dello Sport's front page called it "The End".
At a public engagement the following day, Inter president Massimo Moratti joked: "From what I understand, Milan are behind it." To which Milan chief executive Adriano Galliani shrugged: "Us... no."
Balotelli was sold at the end of the 2009-10 season and it was then - from the moment he departed for Manchester City - that many in Italy began to believe his arrival at Milan was simply a matter of time.
That it finally happened, two and a half years later, was by no means a given, however. Galliani claimed it was "one of the most complicated negotiations of my life."
On the one hand, Balotelli was too expensive - "as valuable as the Mona Lisa", his agent Mino Raiola said. On the other, Milan president Silvio Berlusconi initially didn't seem too taken by the idea, calling Balotelli "a rotten apple", a remark for which he would later apologise.
Things would change, however. Galliani persuaded City to slash their asking price by almost half. And Berlusconi - running for office yet again ahead of a general election on the day of the derby - perhaps saw the chance to win some more votes. According to some estimates, the signing of Balotelli could be worth another two to three percentage points to Berlusconi's party. That prospective bounce was presumably what Moratti alluded to when he said the Balotelli deal was "useful to Berlusconi for a thousand reasons".
Whatever the motivation behind the move, Galliani spoke for Milan and the player when he described it as "a dream come true". For Inter fans, however, it's more of a recurring nightmare. Down the years, they've seen other strikers of theirs, from the great Giuseppe Meazza, Antonio Angelillo and Aldo Serena to Christian Vieri, Ronaldo and Zlatan Ibrahimovic cross over to the other side.
Inter's ultras distributed 30,000 whistles to blow whenever Ronaldo touched the ball in his first derby as a Milan player six years ago. He scored to temporarily silence them.
A hostile reception is expected for Balotelli on Sunday. Inter were fined £13,000 earlier this month after racist chants aimed at him were heard during their match against Chievo. Quick to condemn their actions, Moratti said: "I'm very sorry and I really hope it doesn't happen during the derby."
The game comes at a delicate time for Inter. Since they became the first team to win at Juventus Stadium and stop the champions' unbeaten Serie A run at 49 matches back at the start of November, they have lost their way. Thirteen points ahead of Milan at that stage, Inter were overtaken by their rivals at the weekend.
Andrea Stramaccioni, the coach whose news conference Balotelli memorably gatecrashed nearly a year ago, is under pressure despite their progress in the Europa League.
The recent absence of defender Walter Samuel, who scored the winner in the last derby in October, and the season-ending knee injury suffered by striker and big game player Diego Milito, who has scored eight in eight appearances against Milan, has compromised Inter's season.
Improbably, given the "painful but necessary cuts" made in the summer and the seven points taken from their first eight games, the momentum is now with Milan in the race for the third and final Champions League place in Serie A.
It was gathering even before Balotelli arrived and scored four goals in his first three games. Had the season started in late October, Milan, fired by Stephan El Shaarawy's 18 goals, would be top of Serie A by four points.
Wednesday night's impressive 2-0 win over Barcelona in the first leg of their last-16 Champions League tie, a tactical masterclass from coach Max Allegri, was unexpected despite the fact Milan are unbeaten over 90 minutes in 2013. It seems 'Year Zero', as this has been called at the club, could perhaps be the start of something special after all.
Cup-tied in the Champions League, Balotelli celebrated Kevin-Prince Boateng and Sulley Muntari's strikes against Barcelona on the VIP walkway at San Siro. One wonders whether the next goal he celebrates will be one of his own against Inter in the derby on Sunday night.
Now wouldn't that be something?