Uefa Regions' Cup: Culkin urges risk-taking in San Marino
By Tim Pryor
BBC Radio Jersey
Last updated on .From the section Football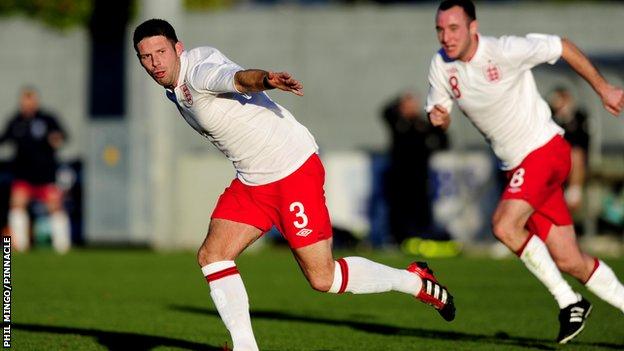 Jersey boss Craig Culkin will encourage his side to take risks and put the emphasis on attack when they pull on the Three Lions of England in the Uefa Regions' Cup next week.
The island's top amateurs won the right to represent the nation in the tournament in San Marino after
No England side has ever made it past the group stages.
"I think we need to play on the edge," Culkin told BBC Radio Jersey.
"We need to take risks and we need to take gambles if we're going to qualify through three of the toughest games this Jersey or England squad will have faced.
"I know the players are pumped up for it but I think it's just about getting the focus right and getting mentally prepared for next week."
Luke Watson is set to wear the captain's armband, while the only change to the sees St Brelade defender Jack McKenna come in to replace James Queree, who turned out to be ineligible.
Striker Charlie Petulla will miss Wednesday's opening match against the Republic of Ireland's representatives, Leinster and Munster. Tournament rules state he is too young to compete, but he will celebrate his 19th birthday while in San Marino and subsequently become available for the final two matches.
"The only thought going through my head is just trying to get three points on the board next Wednesday," added Culkin.
"All my focus and energy now is just really geared to that three points and the way I look at it is there's a job to be done.
"In my experience of being the Jersey manager, tournament football has gone really well for us. Tournament football gets the best out of Craig Culkin and, knowing the players, it certainly gets the best out of them."
The winners of Group Six will progress to the final stages of the tournament, which will be hosted by the Italian Football Association at the end of June.
Representatives from Belarus, Hungary, Italy, Russia and Spain have already qualified.
Jersey squad to represent England
Craig Fletcher, Jay Reid, Aaron Parkinson, Chris Andrews, Craig Russell, Luke Watson (c), James Scott, Charlie Petulla, Jack McKenna, Luke Campbell, Jack Cannon, Ross Crick, James Styles, Ben Gallichan, Joe Murphy, Russell Le Feuvre, Jamie Savory and Stuart Andre.
There will be live coverage of all three England matches on BBC Radio Jersey on special editions of Sportscene.