John Paintsil: Ghana international bailed after arrest
Last updated on .From the section Football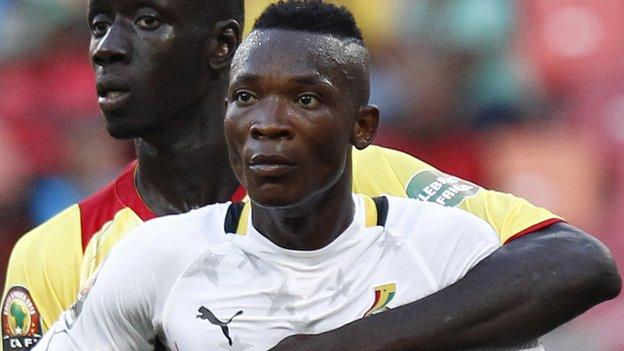 Ghana international John Paintsil has been granted police bail in his homeland after being accused of assaulting his wife.
The former West Ham and Fulham defender, 31, was taken to the Legon station in the capital Accra on Friday and was bailed shortly after midnight.
"He is on police inquiry bail," Accra police spokesman Freeman Tetteh told BBC Sport.
"He is assisting the investigation and is ready to co-operate with us."
Paintsil is accused of stabbing his wife in the upper eyelid. She was taken to hospital, but had now been released.
Tetteh added: "We need a full medical report on the wife who is still receiving treatment. Even though she has been discharged from hospital, she is still receiving treatment.
"She has given us an initial statement. It is an issue of domestic violence as well, so we need a co-operative witness.
"The wife is a key witness and she is co-operating and she has an input to make."
Earlier this month, Paintsil was part of the Ghana team that finished fourth at the Africa Cup of Nations in South Africa.
Tetteh said police are waiting on medical reports before deciding whether to press charges.
He added that Painstil was questioned about allegations of injuring his wife and assaulting a neighbour.
"We want to piece information together. We want to get our facts right, then we know the next steps to take. We need a medical report as soon as possible," added Tetteh.
Paintsil, who represented Ghana at both the 2006 and 2010 World Cups, last played his club football in Israel after leaving England's Leicester City last year.