Garth Crooks's team of the week

By Garth Crooks
BBC football pundit
Last updated on .From the section Football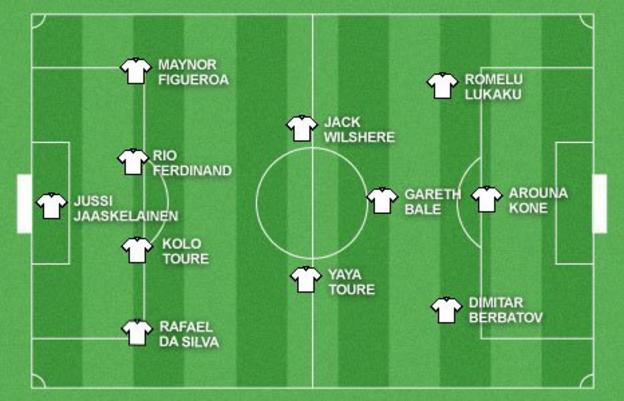 Premier League leaders Manchester United beat QPR to retain their 12-point gap between themselves and neighbours City, who produced a nervy 2-0 win against Chelsea.
Arsenal put an awful week behind them with a 2-1 win over Aston Villa at Emirates Stadium, while Norwich and Fulham managed important victories. Meanwhile, Wigan started their push for the finishing line and Premier League survival with an impressive win at Reading.
Take a look at my Team of the Week and see if you agree with my selections.
GOALKEEPER - JUSSI JAASKELAINEN (West Ham)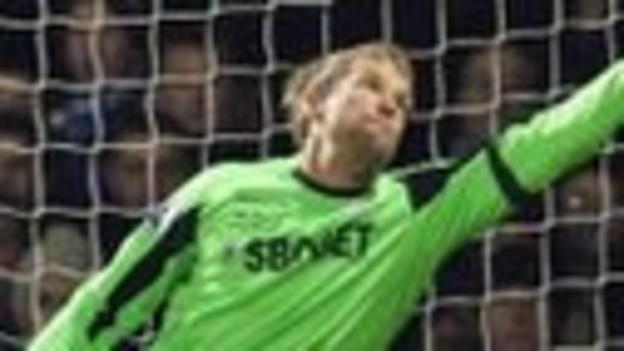 Joe Hart and Mark Schwarzer came close to making my team this week. However, had it not been for Jaaskelainen's performance for West Ham against Tottenham, Spurs could have scored five or six goals. Forget the three that flew past him and focus on the eight or nine world-class saves he made. He gave the Hammers the best possible chance of not just staying in the game but winning it. It takes a special performance to let three goals in and still get in my Team of the Week.
Did you know? His 11 saves in tonight's game is the first time a goalkeeper has reached double figures in a single Premier League game this season.
DEFENDER - MAYNOR FIGUEROA (Wigan)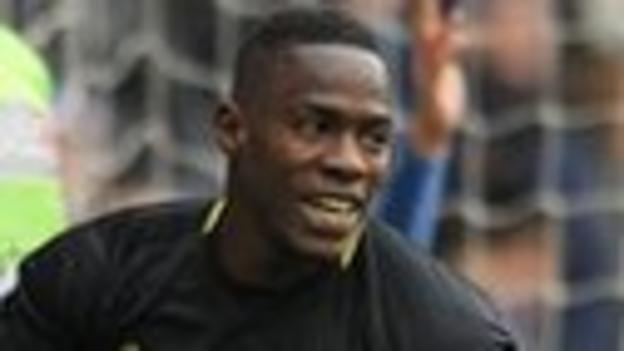 It's happening again. Always around this time of the season Roberto Martinez tells his players that their season has really started. The only problem is that everyone else starts their season in August, and not February. It's quite extraordinary how this team can switch it on almost at will. Figueroa and Wigan have been in this relegation dogfight before and they seem to relish them. He scored a superb goal and assisted Kone in another.
Did you know? Figueroa is the third Wigan player to score and make an assist in the same game this season.
DEFENDER - RIO FERDINAND (Manchester United)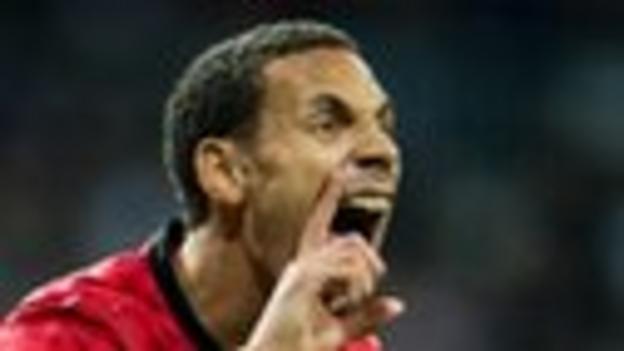 England manager Roy Hodgson must start taking the form of Manchester United's centre-back seriously. He looked imperious against Real Madrid in midweek and again against QPR. On the 20th anniversary of the death of the great, late Bobby Moore, Rio seems to have based his game on the World Cup-winning captain, who with little pace read the game beautifully. As Rio's pace starts to fade his ability to read the game has improved immeasurably.
Did you know? Ferdinand has only conceded seven fouls in almost 1800 minutes of Premier League action this season.
DEFENDER - KOLO TOURE (Manchester City)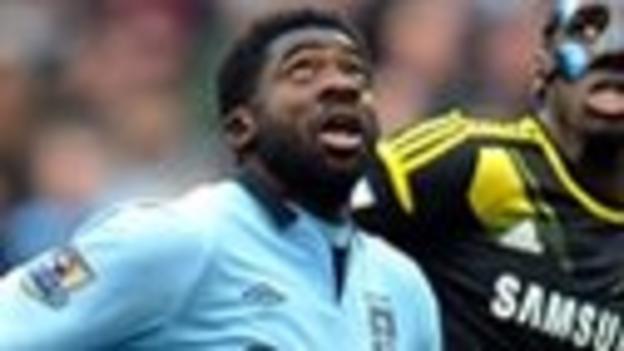 You have to go back almost a season before you come across the name Kolo Toure in my team of the week - largely down to his inability to command a first-team place at City since his failed drug test. His performance against Chelsea indicated that Mancini is prepared to trust him again on the big occasion. He not only looked back to his enthusiastic best but was at the heart of an impressive clean sheet against the European champions. Good to have you back, Kolo.
Did you know? Kolo Toure made 17 clearances against Chelsea, the most by a Manchester City player in a game this season.
DEFENDER - RAFAEL DA SILVA (Manchester United)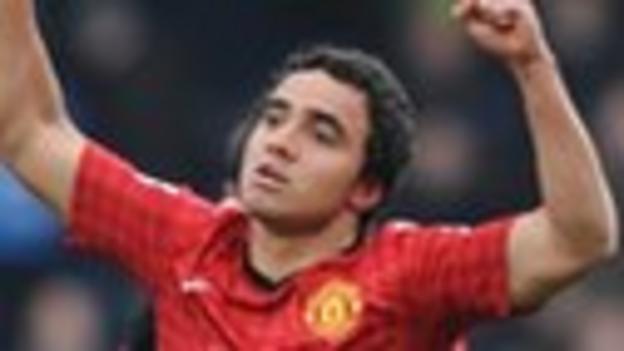 The Brazilian will never score a better goal as long as he lives! The most telling aspect of this strike was the way goalkeeper Julio Cesar stood and watched the ball fly past him in complete astonishment. The look on Rio Ferdinand's face was a picture too. I wonder if this performance could be the making of him for United and Brazil. He certainly has the ability.
Did you know? Rafael has scored three goals this season, more than in the last four years added together.
MIDFIELD - JACK WILSHERE (Arsenal)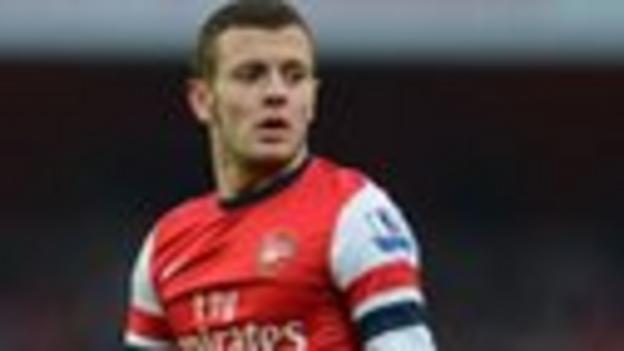 When is Arsene Wenger going to wake up and smell the coffee? He's got serious internationals in his side with much more experience but far less fight than Jack Wilshere. The England international is the only real leader they've got and if Wenger doesn't give this lad the support his talent deserves then he will be off like Cesc Fabregas and Robin van Persie. And it will serve him right.
Did you know? Wilshere has four 'second assists' this season - the pass before an assist.
MIDFIELD - GARETH BALE (Tottenham)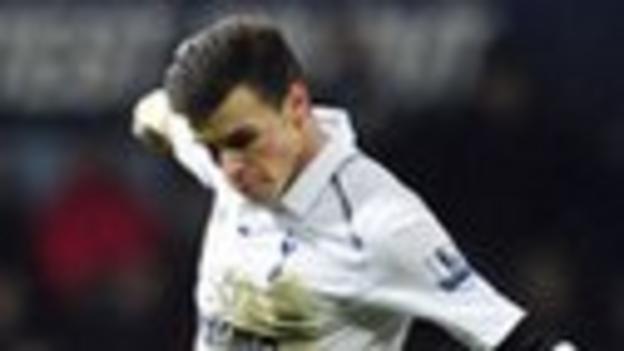 Now here is a player who is simply playing the football of his life at the moment. He has scored 19 goals in all competitions and could have had considerably more had it not been for some outstanding goalkeeping from a number of excellent keepers this season.
And while Gareth is thrilling every Spurs fan on the planet as he almost single-handedly takes the club third in the Premier League table, the question is, what will it cost to take him away from the Lane. The answer? About £80m I would estimate. The likes of Barcelona and Real Madrid are capable of spending that sort of money and it wouldn't surprise me if they did.
Did you know? Bale has scored 11 Premier League goals away from home this season, the most in the league.
MIDFIELD - YAYA TOURE (Manchester City)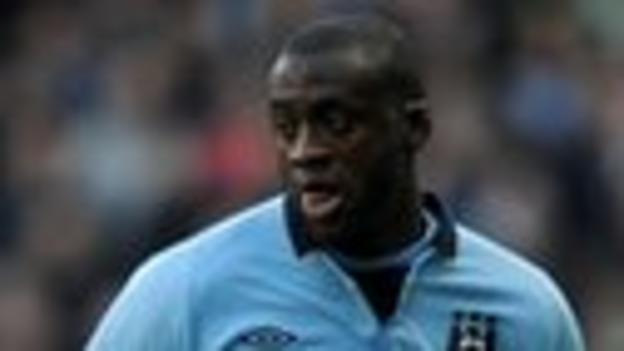 Manchester City's win against Chelsea was by no means a classic encounter but it was a game that tested City's mental capacity. To lose would have spelt the death knell for City's chances of retaining the Premier League title. It will take all of Yaya Toure's mental strength to help them keep in the chase, while they also need Manchester United to fall apart in the way Newcastle United did under Keegan Keegan in 1996 when the Magpies blew a 12-point lead.
Did you know? Toure scored his first goal of 2013 after scoring eight in 2012.
FORWARD - DIMITAR BERBATOV (Fulham)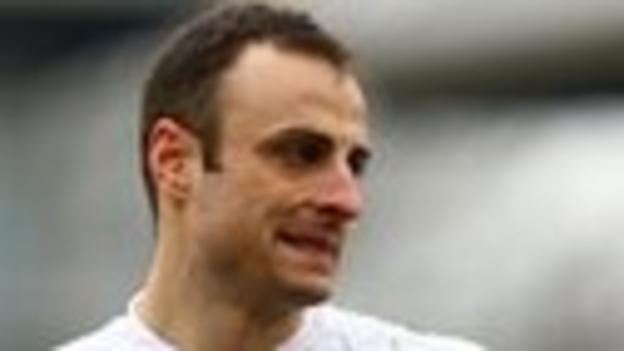 He seems to play the game two gears slower than everyone else and yet looks majestic at the same time. His volley to put Fulham ahead against Stoke was just superb - the way he looked over his shoulder while the ball was in the air coming towards him before he volleyed it past Begovic. I could not believe what I saw.
Did you know? Dimitar Berbatov scored on his 200th Premier League appearance this weekend - taking his tally to 85 for Fulham, Manchester United and Tottenham.
FORWARD - ROMELU LUKAKU (West Brom)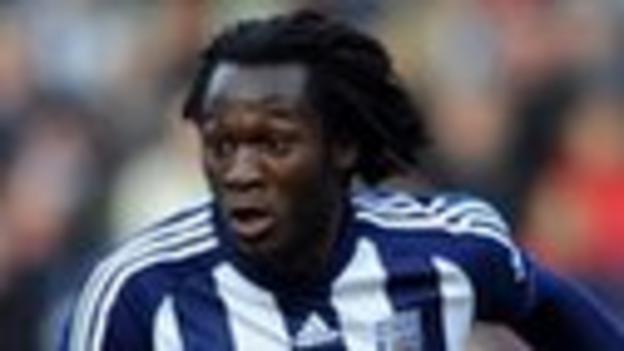 As long as WBA have got Romelu Lukaku, Peter Odemwingie can do what he wants! The Chelsea player on loan to West Brom is looking everything that Fernando Torres is not - which begs the question, what will happen at the end of the season? Steve Clarke clearly can't afford to buy Lukaku and bring him to The Hawthorns on a permanent basis so it looks like Lukaku will signal the end for Torres at Stamford Bridge and will eventually join forces with Demba Ba at Chelsea.
Did you know? Lukaku has 12 goals in the top flight this season, only Peter Odemwingie - who hit 15 in 2010-11 - has scored more in a season for West Brom.
FORWARD - AROUNA KONE (Wigan)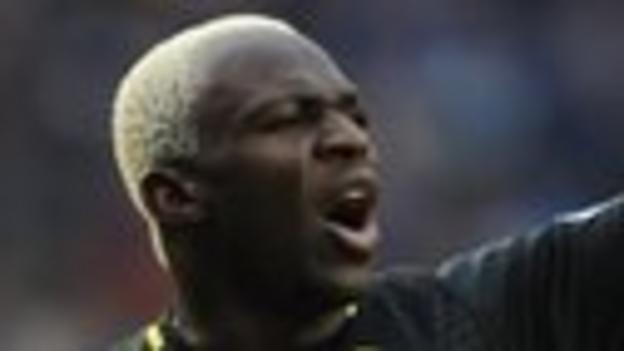 An outstanding performance by the Ivorian and it couldn't have come at a better time for Martinez and his Wigan late starters. I said on Final Score that some teams suffer from breaks in the Premier League schedule and clearly Brian McDermott's side, who were flying before their FA Cup exploits, seemed to lose something on their return to Premier League action. Kone, along with his mate Figueroa, ran them ragged while Reading defended like they had never played in the division before.
Did you know? Five of Kone's eight goals in the league this season have come away from home.