David Beckham: Midfielder targets Paris St-Germain starting spot
By Ben Smith
BBC Sport at Parc des Princes, Paris
Last updated on .From the section Football293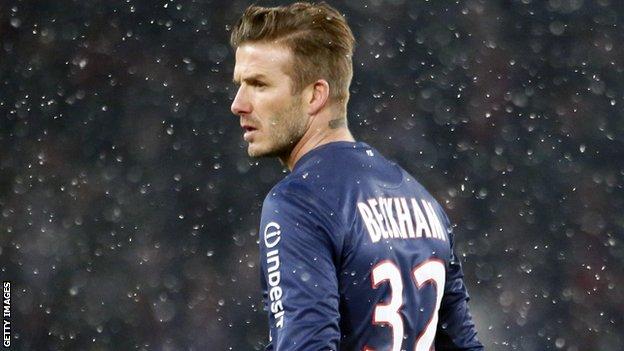 David Beckham says he is targeting a place in the Paris St-Germain starting XI after making an instant impact in Sunday's vital 2-0 victory over rivals Marseille.
The former England captain admitted he had been nervous about his first performance in France before his 16-minute appearance as a substitute.
But having helped create the second goal of the night for Zlatan Ibrahimovich, he said he had been proud of his debut at Parc des Princes.
"Obviously it is a good start," he said. "It was nice to get out there as it seems like a long time since I signed.
"The manager just asked me to go on keep the ball and settle things down. Hopefully I did that."
The 37-year-old could make his first start for Paris in Wednesday's Cup game against the same opponents and he is keen to prove to Ancelotti that he still has the ability to contribute for 90 minutes.
"I have always known that as a new player coming in after Christmas and at my age, I don't expect to have a starting position in the XI but it is what you always want as a player," he said.
"I am proud to be part of this team and was proud to be out there but I will take it step by step and as long as I can come on and make a difference, I would love to that."
Beckham admitted he had been blown away by the welcome he had got from the home support on the night. "The atmosphere in the stadium and the reception I got was pretty incredible both before the game and then when I came on. It makes it easier when you win."
When asked if he there had been any trepidation about stepping back into the fiercely competitive arena of top-flight European football, he said: "There was slight nerves. I have always said it was a big challenge, since I signed for Paris. Playing in America for six years and then wanting another challenge meant there was a little bit of pressure. But I enjoyed coming on."
Beckham also admitted he had been pleased by the faith manager Carlo Ancelotti had shown in him, having been thrown into a top-of-the table clash which was delicately poised with just 16 minutes remaining and PSG leading 1-0.
"Yes, of course, especially against a team that are in third place and trying to catch us up," he said. "It is a big game, it is the biggest game in France and it is a nice one to be a part of for my first game."
The former Manchester United midfielder has been criticised in some quarters as moving purely to help Paris St-Germain promote itself as a brand but Beckham said his reasons were purely down to football.
"The only consideration was just to play top-flight football for a top-flight team," he said.
"To be able to have the chance to do that at my age was something I was very happy about and very proud to be a part of."