Jonathan de Guzman: Swansea City midfielder wants to stay at club
Last updated on .From the section Football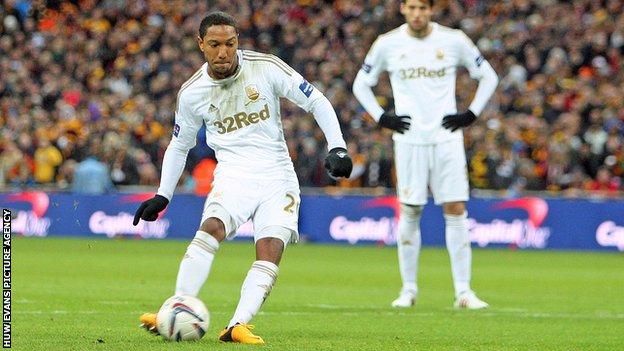 On loan midfielder Jonathan de Guzman has reiterated his desire to stay with Capital One Cup winners Swansea City.
The Dutch international is on a season-long loan from Spanish outfit Villarreal.
De Guzman scored twice, along with Nathan Dyer and Michu, in Swansea's 5-0 defeat of League Two side Bradford City at Wembley.
"If the talks come, my ears are open," said De Guzman.
"It's not just me to ask, there are different parties to ask also, but everyone knows I am happy here.
"Winning makes it a lot more sweeter to be here and I am happy to be here."
The 25-year-old has made no secret of his ambition to become a permanent feature of Michael Laudrup's Swansea City side.
The midfielder arrived at the Liberty Stadium in the summer of 2012 and Swans manager Laudrup has stated publicly he wants to sign de Guzman on a permanent deal.
De Guzman previously worked with Laudrup at Mallorca and has again performed well under the Dane.
The player's ability on the ball has been a key part in Swansea's high-tempo attacking approach under Laudrup.
Villarreal paid almost £7m to capture De Guzman's services in the summer of 2011, before being relegated from the Primera Division at the end of last season.
That paved the way for the loan switch to south Wales, but De Guzman is under contract until 2016 and the Spanish club are likely to want to recoup as much of their original outlay as possible.
De Guzman has heralded Swansea's one-sided victory over Bradford City in a record cup final win at Wembley as the highlight of his career.
"This is one of the best moments of my career," said De Guzman.
"It's a great feeling to be a part of it, winning at Wembley."
De Guzman found himself at the centre of the one furore of the game when he and Dyer become embroiled in a heated discussion over a penalty Swansea were awarded in the 59th minute.
The Dutchman was the player fouled for the penalty, while Dyer, who had already scored goals in the 16th and 47th minutes, wanted to take the spot-kick to complete his hat-trick.
De Guzman ended up taking the penalty and he later added to that with a second goal in the 90th minute.
"It was just a bit of a discussion," said De Guzman.
"I realise it was a big thing to get a hat-trick, but it was my chance to score and I thought I was the perfect one to take it."