Graham Alexander angered by Fleetwood loss at Aldershot
Last updated on .From the section Football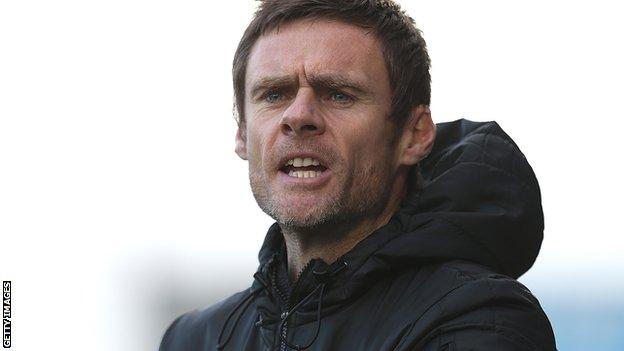 Manager Graham Alexander has said his team let everyone connected with Fleetwood down after they lost 2-0 at lowly Aldershot on Saturday.
Two successive defeats have left the Cod Army, who two points from a play-off place.
"My team's commitment in the first half was nowhere near the levels we expect," he told BBC Radio Lancashire.
"Regardless of what happened in the second half, I would have been raging with what happened in the first half."
He continued: "It wasn't good enough. Why do we wait until 46 minutes to have a go? Why waste 45 minutes. That's what we did.
"If you think you can play for half a game and be successful, you're kidding yourselves. We're realistic and we know that wasn't good enough."
in their previous outing, with goalkeeper Scott Davies in that game, while both Jamie McGuire and Alan Goodall saw red at the EBB Stadium on Saturday.
Alexander, who was appointed in December, wants to use the loss as motivation
"It wasn't a day to forget because we're going to remember how we feel now," added the former Scotland international. "If you brush these days under the carpet, you're lying to yourself and you're not realistic.
"We're going to remember this day and we're going to use this day for the rest of the season."