BT buys ESPN's Scottish Premier League TV rights
Last updated on .From the section Football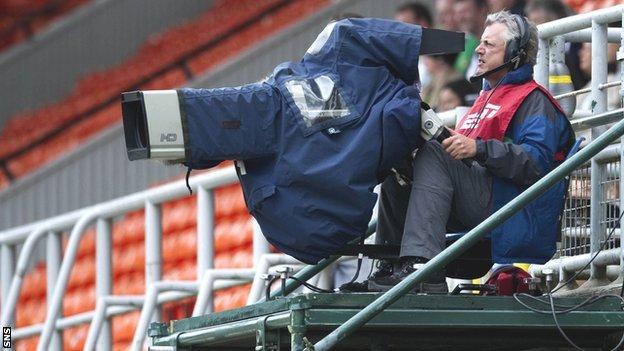 Broadcaster ESPN is to sell its UK channels and live sports portfolio to BT Group, who will continue to cover Scottish Premier League matches.
The deal, subject to regulatory clearance, removes the uncertainty that surrounded ESPN's involvement in Scottish football beyond this season.
It had a get-out clause to exit its current deal with the SPL this summer.
"We look forward to working with BT from the beginning of next season," said SPL chief Neil Doncaster.
"It means that top-flight football will continue to be broadcast by Sky Sports and now BT, providing a solid financial bedrock and the best possible platform to promote the game in Scotland."
BT's acquisition means it will broadcast SPL football for the next four seasons, until the summer of 2017.
BT Sport customers will also see live coverage of the FA Cup for the 2013/14 season, the Europa League and German Bundesliga through to the end of the 2014/15 season.
It has already secured deals to show live Barclays Premier League and Aviva Premiership Rugby matches for the next four seasons.
The latest transaction is expected to go through on 31 July. BT will continue to operate at least one ESPN-branded channel which is expected to form part of the BT Sport TV package to be launched this summer.
It remains to be seen whether it will attempt to broaden its Scottish football offering when Scottish Football League and Scottish Football Association contracts come up for renewal for the SFL's League Cup, and the SFA's prized assets, the Scottish Cup and Scotland international matches.
"We're really thrilled to be involved with Scottish Premier League football," said BT Retail's Marc Watson.
"We're looking forward to bringing some of the very best action to fans.
"The SPL will be a terrific addition to our football coverage, giving Scottish viewers the excitement from top matches north and south of the border. We'll be talking more about our plans soon."