FA provides clubs with 'toolkit' to tackle homophobia
Last updated on .From the section Football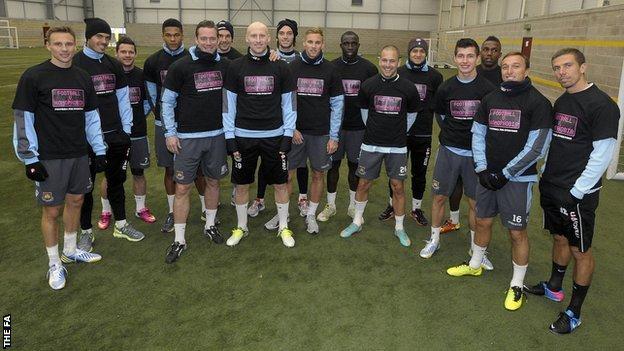 The Football Association has stepped up efforts to fight homophobia in football by providing clubs with a toolkit.
The resource has been sent to the 92 clubs of the Premier League and Football League as part of the Football v Homophobia campaign.
The 43-page document carries advice on how to create good relations with the lesbian, gay, bisexual and transgender (LGBT) community.
West Ham backed the campaign ahead of Monday's match against Tottenham.
The players wore Football v Homophobia T-shirts in the lead-up to the Premier League encounter at Upton Park.
Hammers captain Kevin Nolan said: "It's important that we, as a club and as a squad, support the Football v Homophobia campaign.
"We're role models and we've got to ensure that we respect all members of society and show that we're open minded.
"If someone told me, or any of the lads, that they were gay, it wouldn't change our view of them one iota and that's the only way it can be, so it's a vital message to push."