Sporting Spotlight: David Elleray
Last updated on .From the section Football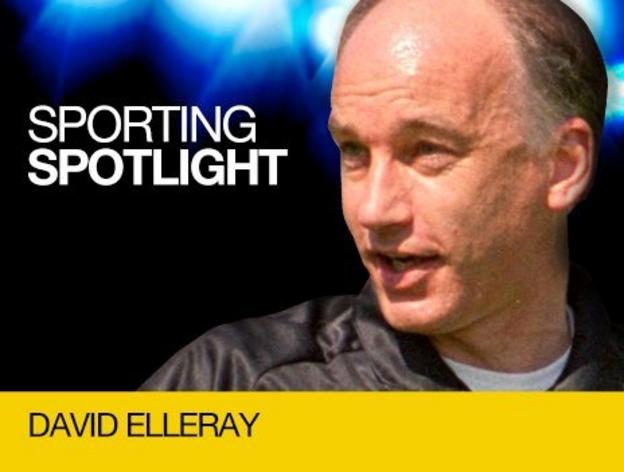 David Elleray is a retired top-flight referee who officiated at the dawn of the Premier League era and oversaw the 1994 FA Cup final, 14 games at the old Wembley and 70 international matches.
A former geography teacher and housemaster at prestigious public school Harrow, Elleray, 58, combined his duties on the pitch with a career in education and was the last of the non-professional referees.
Now chairman of the Football Association's referees committee, Elleray tells BBC Sport about his views on dissent in the game, disciplining Roy Keane and Ian Wright and wearing a recording device in a top-flight fixture.
How old were you when you officiated in your first game?
I was 13. I wasn't a very good player at school and didn't feel I'd get anywhere as a player. I was attracted by maintaining an active involvement in the game.
I was very quickly refereeing men's football because in those days you could. There was actually an element of them looking after me and being happy they had a referee at all.
As well as a top-flight referee you taught at Harrow. Did being perceived as posh affect your relationships with players and managers?
The media liked to present me as posh and out of touch. I was once told by a then top referee that I would never get to the top because I spoke with a posh accent.
But ultimately everyone knew I taught at Harrow. To some extent that became my trademark. I don't think it ever hindered me on the pitch.
How did you balance your career with the pressures of being a top-flight official?
I could have been refereeing at Manchester United on a Wednesday night and needed to be back teaching at Harrow at 09:00 next morning. That put a certain amount of strain on things.
Referees became professional in 2001, before I retired. I turned down going to the 1998 World Cup finals to focus on my career.
But now there is the potential added pressure. When refereeing is your livelihood, if you're not refereeing very well then you're removed from the list at the end of the season, how do you pay the mortgage? How do you feed your children?
What keeps you busy these days?
Football dominates 85% of my working life. I spend almost half the year just outside Geneva, because I'm a member of the Uefa Referees Committee.
On behalf of Uefa I run a programme called CORE - Centre of Refereeing Excellence - and we run a residential programme for every country in Europe to send their young potential Fifa referees and assistants to be trained to be international officials before they actually make the step up.
The Football Association are celebrating their 150th anniversary this year. Are you involved in any way?
I am chairman of the FA's referees committee. We are trying to make sure that the role that refereeing has played in the last 150 years is acknowledged. We're doing that in a number of ways, most notably at the annual conference in the first weekend in July.
Who was the hardest player to referee?
I sent Roy Keane off a number of times but Roy was very straightforward. If he was going to do anything, as with Alf-Inge Haaland, he did it for all to see. I got a letter and a signed shirt from him when I retired. It demonstrates the relationship between players and referees is better than people think.
The two most difficult to referee were Paul Gascoigne and Ian Wright. Gazza could be laughing and joking with you one moment and a different character would appear moments later - you didn't know what you were going to get. Wright was similar, difficult in that he was a complainer but also someone who was not averse to leaving a foot in or being a bit sly.
What about your most difficult game?
One of the hardest games was a [November 1999] derby between Tottenham and Arsenal. I sent off Freddie Ljungberg and Martin Keown and there were a lot of yellow cards, and it just seemed a game where the players took against each other and waving red and yellow cards didn't seem to be having any effect.
Normally you have various levels of authority in a game, all the way up to a red card. When the yellow card was ceasing to act as a deterrent I hadn't got much left, really.
Do you think referees should meet the media after a game to explain their decisions?
My concerns are that the media are only ever interested in talking to referees when they think the referee has made a mistake. If you're not careful with your wording you can communicate a wrong message.
I would prefer that there was more done to explain refereeing decisions and refereeing, so people can understand the processes and why referees make mistakes.
Referees still feel mistakes. In a way I'm still hurting about a decision I made almost 20 years ago in the FA Cup final.
What decision was that?
I gave a debatable second penalty in the FA Cup final in 1994. On reflection I would prefer not to have given that decision. I had already given Manchester United a stonewall penalty beforehand. But the second one was justifiable, but not a strong penalty.
I was disappointed in that decision and it clouded my enjoyment of that major game. In a way it's spoiled my memory of the cup final. It was my big game and I made a disappointing decision.
What was the best piece of skill you saw on a football pitch?
I was lucky to be on the field for a number of very good goals. I was officiating in 1996 when David Beckham scored from the halfway line against Wimbledon, and I was also on the field when Ryan Giggs scored his famous FA Cup semi-final goal against Arsenal in 1999.
Howard Webb sums it up about refereeing - often you have the best seat in the ground.
In February 1989 you famously wore a microphone while refereeing Millwall v Arsenal. The subsequent documentary caused a media frenzy and officials haven't been recorded since. Do you regret taking part in the project?
It was a shame the programme was corrupted. The original show looked at violence towards referees, particularly on local parks. They filmed me officiating the top game of the day as well as a local referee to see how we were both treated.
I saw a preview which was very balanced, but it was then hijacked to become a witch-hunt of Arsenal. Bleeps were put in to give the impression that players were swearing when they hadn't.
They only showed the occasions when there was some sort of dispute between the players and me. They edited out all the good exchanges and gave the impression that Arsenal had behaved appallingly.
They destroyed the opportunity for people to have a really good behind the scenes look at refereeing. A balanced documentary would have given them greater access to referees wearing microphones in the future, which hasn't happened since. And it probably won't for a long time.
That documentary showed you experiencing a level of dissent on the field. Off the pitch were you ever subjected to ridicule?
Actually, amusingly, there was once a newspaper cartoon which showed me booking David Beckham. The caption underneath was: "David, if you commit another foul like that I won't let Romeo come to Harrow." I thought that was quite good.