Wales women name squad of 21 for Algarve Cup tournament
Last updated on .From the section Football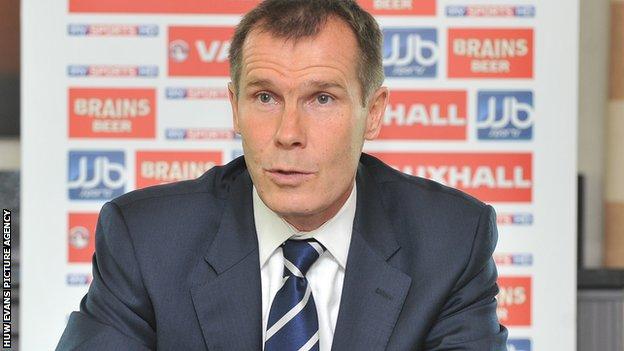 Wales women have named a squad of 21 players for next week's Algarve Cup tournament in Portugal.
The squad includes five members of the Under-19 squad and uncapped defender Carys Hawkins, who was born in Cardiff and currently plays in Sweden.
Wales will take on hosts Portugal, Hungary and Mexico followed by a play-off game.
"It is a very important tournament for us in many respects," said Wales manager Jarmo Matikainen.
"First of all we have got a new qualification campaign starting next autumn and it is team-building time again.
"We have had a few senior players who have retired from international and we have new players coming into the squad.
"It is an extremely good tournament to see the standards where we are both as a team and looking at player development."
"We are going to have three very tough games especially because we a have a new team and some new players."
Wales, who came eighth in the 2012 Algarve Cup, open the tournament against Portugal on 6 March followed by Mexico two days later and Hungary on 11 March.
Wales squad: Nicola Davies (Unattached), Rhian Nokes (Cardiff City Ladies), Kylie Davies (Chelsea), Lauren Hancock (Cardiff City FC), Carys Hawkins (Sunnana SK), Hayley Ladd (Coventry), Danielle Oates (Blackburn), Lauren Price (Cardiff City FC), Nicola Cousins (Cardiff City Ladies), Loren Dykes (Bristol Academy), Jessica Fishlock (Seattle Reign FC), Michelle Green (Cardiff City Ladies), Sophie Ingle (Chelsea), Angharad James (Bristol Academy), Rachel Hignett (Bristol Academy), Sarah Wiltshire (Watford), Megan Wynne (Watford), Natasha Harding (Bristol Academy), Shan Jones (Caernarfon), Nadia Lawrence (Cardiff City Ladies), Helen Ward (Chelsea).