Aldershot Town: Shahid Azeem injection 'stabilises' club
Last updated on .From the section Football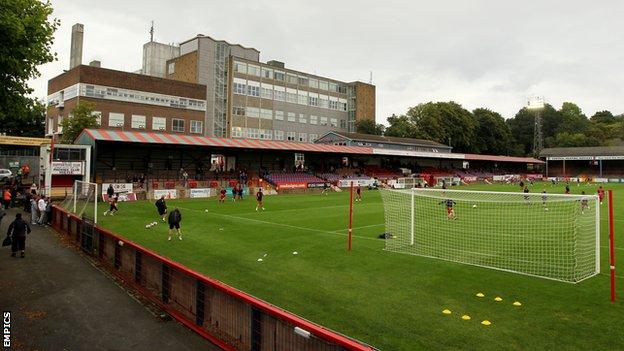 Aldershot Town chief executive Andrew Mills says the club's immediate future was in danger before a cash injection by new chairman Shahid Azeem.
Azeem replaced Kris Machala as chairman this week.
Mills told BBC Surrey: "We have had an immediate cash injection. We had some immediate financial concerns at the football club.
"We have addressed those with making this change. It means we can continue to trade through the season."
He added: "This gives us a good platform to create some stability and is a smooth transition.
"My view has been that we really need to get through this season and buy ourselves some time in the summer to take a look at the structure, the budget and what we can afford going forward.
"We can run a far more frugal, sensibly placed business that can afford to live within its means."
Mills welcomed Azeem's appointment following two years as a non-executive director at the League Two club.
"Shahid has been involved in assisting the club with finance in his two years with the board," Mills continued.
"He will continue that and it opens us up to a completely new contact base and I think in that Shahid will be a significant asset to the football club.
"It will allow us to go back out into the marketplace and market the club as a going concern and one that will attract sponsors and investors.
"It is a positive statement of intent."
Machala, who had been chairman since July 2010, remains the majority shareholder and the owner of the Hampshire outfit, while also retaining his position on the board of directors.
"Kris has put everything into the football club and now we need some additional assistance to help us make the next step," Mills added.
"I am delighted Kris and Shahid have been able to find an accord and that there is a friendly handover of the role and responsibilities.
"It does take every bit of you to make sure football clubs at our level are run with an achievable aspiration and don't outstretch themselves.
"Unfortunately we had gone as far as we could go with Kris's financial assistance and we had to restructure and refinance for the future.
"It has got Kris's blessing, taken with the greater good of the football club at heart."