Shrewsbury boss Graham Turner: 'Too many clubs live too recklessly'
Last updated on .From the section Football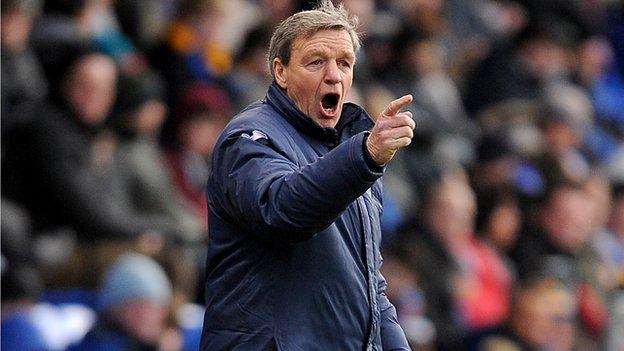 Shrewsbury Town manager Graham Turner insists that too many clubs are simply not living within their means.
At a time when his club are still owed money by League One rivals Swindon, Turner admits to frustration at keeping Shrewsbury's finances in shape, while others throw caution to the wind.
"It's a situation where legislation, which is wage restriction, doesn't seem to have cured the problem," he said.
"Too many clubs live too recklessly financially. It shouldn't happen."
The vastly-experienced former Aston Villa and Wolves boss is perhaps more aware of any football club's budgetary restraints than most managers following his years at Hereford, when he ran the whole show.
First at Edgar Street, and now once more at the Greenhous Meadow, Turner has long been an advocate of using the loan system extensively, rather than making signings his club simply cannot afford.
And he outlines the current contrasting examples of two of Town's League One rivals, Swindon, who currently lie second, and long-time leaders Tranmere Rovers, who have dropped to third.
"When a club decides 'This is the way we're going to go, we're going to buy players, we're going to spend big on wages', they've got to be able to afford it," 65-year-old Turner told BBC Radio Shropshire.
"I don't think it's a level playing field when you get a club like Tranmere, who are battling for the same places as Swindon, and that is promotion.
"Tranmere do it and live within their means.
"They can't afford to go out and sign the sort of players that Swindon have done.
"But Swindon can't afford to do it either."
Despite flirting with administration, Swindon now have new owners, reportedly ready to pump in money. Yet they still owe Shrewsbury the latest £20,000 instalment on striker James Collins.
The payment was due after summer signing Collins completed his second batch of 15 games for the club, ironically against Shrewsbury, in a 2-0 home win on 19 January.
At a time when Swindon's finances forced them to sell winger Matt Ritchie to Bournemouth for £500,000 late last month, also triggering colourful manager Paolo Di Canio's exit from the club, Town even tried to buy Collins back, only to be turned down.
But the money has not yet been paid, new Swindon chairman Jed McCrory having told a press conference on Monday that he will "resolve any late payment fees to Shrewsbury shortly".