John McGlynn urges Hearts fans to 'stick together'

By Brian McLauchlin
BBC Scotland
Last updated on .From the section Football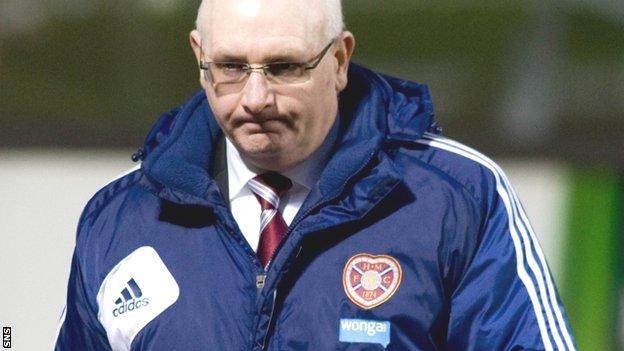 Manager John McGlynn has urged the Hearts fans to ignore the criticism of the troubled club, stick together and look to the long-term future.
Hearts' cost-cutting has led to the departure of many experienced players and the emergence of younger talent.
"When you're down people boot you, that's how it goes," said McGlynn.
"We've brought it on [ourselves] but it's easy, isn't it? People probably thought we overspent, which might well have been the case."
The Tynecastle boss, who said there were "no problems whatsoever" with wages being paid on time, likened the appetite for fans of other clubs to enjoy Hearts' plight to events at Ibrox in 2012.
"I think it's the same as Rangers last year. Ally McCoist went through that as well," he said at his club's media conference ahead of their Scottish Premier League trip to St Mirren on Wednesday.
"I would appeal to the Hearts fans to stick together. Let's all get together and fight against the other teams we need to compete against.
"We have enough battles out there without having to battle among ourselves.
"If we win football matches, the doubters will go away."
Hearts have lost their captain Marius Zaliukas to injury for the rest of the period he is contracted to the club.
The squad that won the Scottish Cup last May has been shorn of the likes of Craig Beattie, Ian Black, Suso Santana, Rudi Skacel, Stephen Elliott, David Templeton, Ryan McGowan and Andrew Driver.
Further, repeated late payment of wages brought about a transfer embargo and, , Hearts may only sign less expensive players under the age of 21 on a one-in, one-out basis.
And in December the club lost a battle with Her Majesty's Revenue and Customs and must pay back £1.5m over three years.
On top of all of that, Lithuania's Ukio Bankas, owned by Hearts' majority shareholder Vladimir Romanov, has been placed in administration.
BBC Scotland has learned that it may take some months for the administrators at the bank to deal with the bad debts.
A source close to the administrators said it would be up to the creditors to decide what should happen to any assets that have to be disposed of.
Last week the Central Bank of Lithuania confirmed to BBC Scotland that Ukio Bankas was holding certain assets in relation to Hearts and that these would be placed in the "bad debt" category.
"We just concentrate on the football. That's what we are paid to do. I am not really interested in banks," stated McGlynn.
And the manager pointed to the promotion of younger players such as Callum Tapping and Jason Holt to the first team as proof that all will be well at Tynecastle in good time.
"You don't want to be in these things [situations] but you'll become stronger for it," he continued.
"The longer-term future is very bright.
"I'm putting young players in and they are picking up massive experience.
"It's a good style of football; it's pleasing on the eye.
"The younger players have come through with a philosophy to pass the ball. That will make us better in the long term."