Plymouth Argyle Fans' Trust criticises club leadership
By Brent Pilnick
BBC South West Sport
Last updated on .From the section Football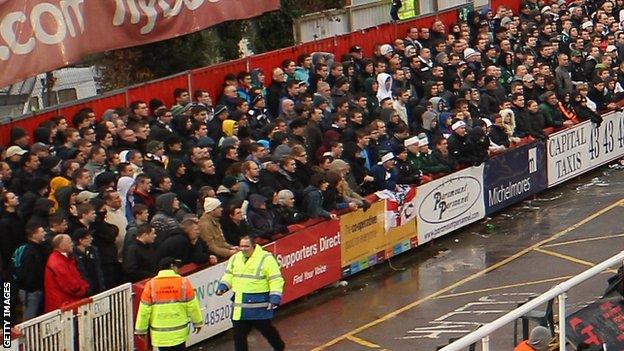 Plymouth Argyle's Fans' Trust says chairman James Brent must show more leadership at the club.
Argyle are currently bottom of the Football League, 16 months after Brent took the club out of administration.
"Our concern is that we are quietly sliding out of the league," Argyle Fans' Trust chairman Andy Symons told BBC South West Sport.
"We're not hearing anything from the board or James Brent about any plans to change that situation."
But Argyle non-executive director Peter Jones says he does not understand the view of the Fans' Trust.
"My reaction is one of extreme disappointment that a group of people, that purport to be fans of Plymouth Argyle, are playing these sorts of games," he said.
Argyle went bottom of the league for the first time this season after losing 1-0 at Northampton Town on Saturday.
The club went into administration in March 2011 after running into financial problems more than two years ago.
Businessman Brent and helped finance the club's survival last season, as they finished 21st in League Two having been bottom of the league for much of the season.
But this season Argyle's fortunes have failed to improve, with the club before Brent on New Year's Day,
While results under Sheridan initially improved - Argyle took seven points out of a possible 12 from his first four games - the team have lost their last two matches and consequently slipped back into the drop zone.
"We had hoped that this season would be one of consolidation and rebuilding, but it looks to us as if that opportunity has been missed," Symons continued.
"The silence from the board at the moment is pretty deafening. There's very little coming out of Home Park from Mr Brent or the board and when that sort of thing happens a vacuum is created.
"There's a lot of anger from supporters about the way the season has developed and Mr Brent could go a long way to regaining a bit of the good will that had been lost by the support by communicating with us."
But Jones disagrees, arguing that the club's leadership, through the Plymouth Argyle Supporters' Board, have been more open than any owners of the club previously.
"I can understand everyone's frustrations at the way that results have gone this season," Jones said.
"If they're making assumptions that we're somehow unaffected by that, they're completely wrong.
"The football club, since James Brent took it on, have been extraordinarily open and transparent and been prepared to travel all over the country to meet sets of supporters.
"We have tried our very best during a difficult time to be open to all comers to talk."