Bale in line for top accolade says Wales manager Chris Coleman
Last updated on .From the section Football16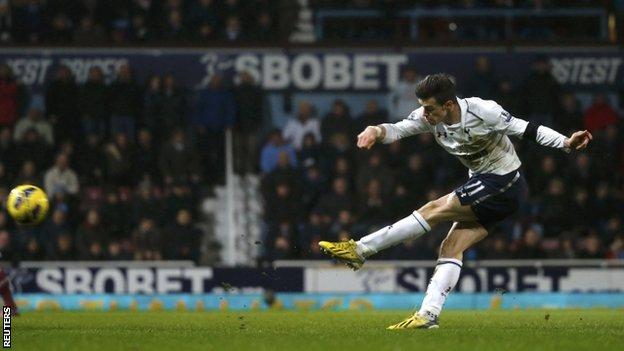 Wales manager Chris Coleman believes Gareth Bale is in line to be player of the year for the second time in three years.
If he wins the PFA title he would join Mark Hughes as the only Welshman to win the honour twice.
Coleman says 23-year-old Bale is one of three candidates as player of the year.
"He [Bale] is going to be up there with [Robin] van Persie and Luis Suarez," said Coleman.
"He is doing himself lots of favours if he carries on playing like he is and winning games and scoring goals."
Bale made it 15 goals in 23 Premier League appearances for Tottenham Hotspur this season with two strikes in their 3-2 win at West Ham United on Monday.
His record compares this season to van Persie who has 19 league goals in 24 appearances and Suarez (18 in 26).
Bale has also lit up the international stage scoring a goal and setting up the other in Wales' 2-1 friendly win over Austria at the Liberty Stadium in February.
"People talk about his goals which are absolutely magnificent but his all round game has been tremendous," said Coleman.
"You have to put his up there at the minute with the best players certainly in the Premier League. On his form he is world-class.
"He is doing all his talking on the pitch.
"West Ham didn't play that badly [on Monday night]. They won't play much better.
"But if you have got someone like Gareth Bale in the opposition. There is only so much you as a team you can deny the opposition, but if you have got one player that is capable of doing what Gareth Bale is capable of - how do you stop that?"
Coleman says he feels uncomfortable to compare Bale to fellow Welshman Ryan Giggs, the Manchester United midfielder who has played every season of the Premier League.
"The difference between with Giggsy and Baley is Baley scores more goals than Ryan," said Coleman.
"Ryan was very much a creator - a match winner himself.
"Baley is a more a goal scorer of dramatic goals. There aren't many player who can do what he does, not just in the Premier League but in football.
"Gareth's still 24 and you have to look what Ryan has achieved with Manchester United. To be fair to Baley he just wants to go about his business and do his job nice and quietly.
"He is a great player but I don't like to compare him to Ryan Giggs."