Swansea could cope with Michael Laudrup loss - Chris Coleman
Last updated on .From the section Football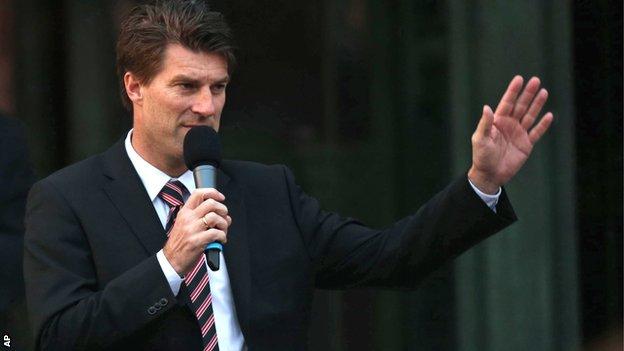 Wales manager Chris Coleman says Swansea could continue to thrive even if successful boss Michael Laudrup moves at the end of the season.
That has led to increased speculation over Laudrup's future.
But ex-Swans defender Coleman said: "Hopefully they don't lose him, but I'm sure they'll get by."
Victory over Bradford ensured Swansea will be in the 2013-14 Europa League, enhancing the club's growing reputation.
Laudrup, who has one more year on his current contract, has been linked with Real Madrid and Chelsea.
Laudrup has a contract until the summer of 2014 and has reiterated his intention to stay in south Wales for a second season.
Swansea City Chairman Huw Jenkins says he expects Laudrup to lead them in Europe next season.
"Personally I have no issue about the thought of him not being here next season I think he will be here and he's stated he would honour his contract," Jenkins said.
Laudrup recently won 72% of the votes in a poll among Real Madrid supporters on who should succeed Jose Mourinho at the Bernabeu.
The 48-year-old, who won a league title with Real Madrid in 1995, is ahead of Chelsea manager Rafael Benitez and Paris St-Germain's Carlo Ancelotti in the poll of Madrid supporters.
Laudrup won four straight La Liga championships with Barcelona as a player and their current manager Tito Vilanova is in New York receiving treatment for cancer and is not expected back at the club until March.
However, Coleman believes that having seen previous successful managers Roberto Martinez (Wigan) and Brendan Rodgers (Liverpool) being tempted away, Swansea would move swiftly and successfully to replace Laudrup.
"When a club does as well as Swansea City has done, you're going to pick out the best players, the manager," said Swansea-born Coleman.
"Plus if they do lose Michael Laudrup - I hope they don't and I'm not saying they will - Swansea will be clever in who they appoint.
"And they've done it all along since they lost Roberto Martinez.
"They've always replaced one manager with another [with a very] similar style."
is among those who say Laudrup will be in demand by some of the game's biggest clubs because of the impact he has had.
But the club's star buy for this season, Spanish striker beyond the end of the season.
Defender Angel Rangel described Swansea's rise during his six years at the club "seemed impossible, just like a dream".
But he believes the good times can continue for a club who were in League One when he joined in 2007 when Martinez was in charge.
Rangel said: "When I arrived they told me in four seasons they wanted to be in the Premier League.
"I did not believe it was possible, it seemed impossible, just like a dream.
"Here we are six seasons later and we are established in the Premier League, we have won this cup and are in Europe.
"It shows how well run the club is, we have great characters and we need to keep that to succeed.
"Over the last few years we have been always climbing, but we must not get carried away.
"We must keep working and hopefully we can keep doing well and do something special in Europe.
"It will be difficult but if we keep our best players and the manager, I think we can do well.
"It's a chance to show we can play good football against all kinds of teams, with different tactics and we are looking forward to it."