Wrexham boss Morrell condemns sent-off Jay Harris as 'an idiot'
Last updated on .From the section Football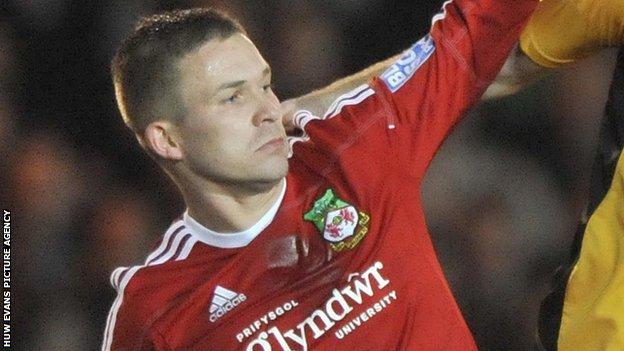 Wrexham boss Andy Morrell has condemned midfielder Jay Harris as an "idiot" following the player's sending-off in their 1-0 win at Barrow.
Harris is set to miss Wrexham's next four games following his red card,
Morrell was pleased Harris saw fit to apologise to his team-mates after kicking out at opponent Alex-Ray Harvey.
But the player-manager said: "Jay Harris's sending off - ridiculous. He's an idiot."
Harris's red card came in the 63rd minute when the game was scoreless.
Substitute Kevin Thornton hit home for the visitors six minutes from the end to secure a victory that kept the Dragons at the top of the Blue Square Bet Premier.
And Morrell says Harris's actions could have contributed led to Wrexham suffering as a result.
He added: "He's foolish. He's right in your face, Jay, and he tackles and he plays that way and I would never take that away from him.
"And he's been brilliant this year because he has tempered.
"He normally has about 25 yellows by now and he's only got eight so we're moving in the right direction.
"But he's had a little bit of a wrestle in the middle and he's just kicked out and to be fair it is a red and he knows it.
"And I'm pleased that he's held his hands up because he can hide behind all sorts of excuses and that.
"But he hasn't. He's held his hands up and gone 'yep, my bad un'. Thankfully it's not cost us, but it could do.
"And we're going to miss him now for a few games, which is going to be key."
Harris is likely to receive a three game suspension following his red card at Barrow and as it was his second sending off of the season there will be an additional one match ban added.
Morrell also highlighted poor discipline as an issue that adversely affected Wrexham's failed promotion bid in the 2011-12 season.
"Suspensions and all that cost us last year and we told them this year," said Morrell
"But a little bit of a moment of madness and [we were] down to 10 men and it's hard, it's very hard.
"They get their tails up and they think they can see the win.
"They've only really had shots from outside the box.
"And then we try to ask at half time for a little bit of quality - that little bit of quality to nick us a goal and there was a great turn from Rob [Ogleby] and a great pass and a really good finish as well from Kev.
"And I'm made up for him because he's had to be patient and we managed to hang on."