Torquay United: Alan Knill wants more experienced players
Last updated on .From the section Football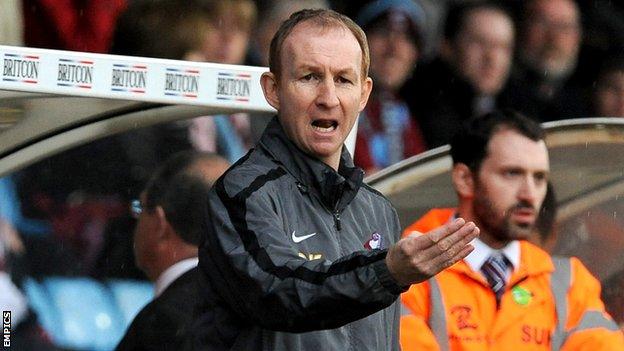 Torquay United interim manager Alan Knill says the club needs some experienced players to come in on loan to help them avoid relegation.
The Gulls slumped to their seventh defeat in a row as Wycombe came back from a goal down to
"I think we need some game-changers off the bench," Knill told BBC Radio Devon.
"I felt we needed some experience but we couldn't get anyone in before today, but we'll continue to look."
Torquay's goal was their first in open play in six matches, since the 2-1 loss at Cheltenham at the start of the month, and Knill was saddened that his side could not build on Ryan Jarvis's first-half strike.
"I'm delighted that we scored after such a long time, but disappointed that we can't keep hold of that 1-0 lead," he said,
"We've got some young players - they've probably not been in this situation before and it took at least 25 minuets to get going.
"But all of a sudden we got going and there was a game on.
"It's been quite a tough two games, and a tough four days, but we're more than capable. We just need to organise ourselves a little quicker and be more determined about things and it'll change.
"There's not one or two games left, there's 12 games left, and within that group that are in the bottom seven or eight a lot of things can change.
"We've got to be positive and I'm quite sure we'll get out of it."