Greg Abbott: Manager admits 'tough times' at Carlisle United
Last updated on .From the section Football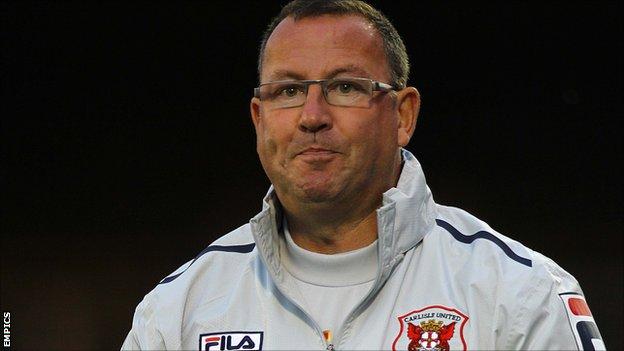 Carlisle United manager Greg Abbott has admitted the pressure is on amid supporter discontent after Tuesday's 3-0 home defeat by Walsall in League One.
The Cumbrians are without a win in four games, while gates are currently averaging less than 4,000, down from last season's figure of 5,247.
"It's a tough time to be the manager of the club at the moment," Abbott told BBC Radio Cumbria.
"We've got resurrect the performances and resurrect the crowd base."
Will Grigg's hat-trick for the Saddlers took the tally of goals conceded by United this season to 59, the joint-highest in the division, and no club has let in so many at home.
United began the month in good form and extended an unbeaten run to four games before a 3-1 defeat at Scunthorpe which began the current slump.
"There looked to be apprehension and fear in our play, edginess in our play and we didn't work hard like Carlisle United do," said Abbott.
"It's horrible as a manager to stand at the side and see the team play like that [against Walsall].
"I am powerless, it's frustrating, and I take all the blame. They're my players, it's my team and my performance."
He added: "We looked like we didn't have that confidence (we need) - but the last 10 games it looked like we had.
"If we'd won we'd have been one of the best home records in the last seven games.
"If I haven't got what it takes and yet we're still going to be one of the best home teams over the last seven games, that's up to people to form their opinions. Tonight we looked a dishevelled outfit."