Rafael Benitez: Chelsea interim manager angrily confirms exit
Last updated on .From the section Football2083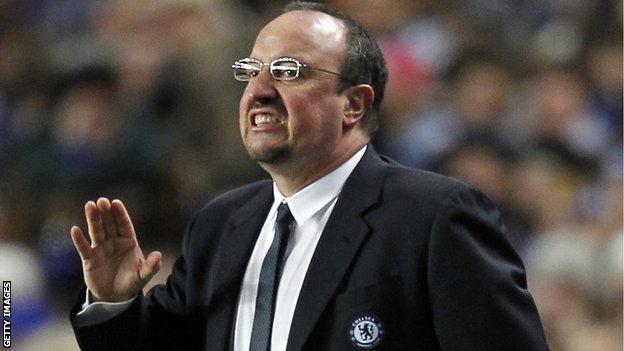 Rafael Benitez has said he will leave Chelsea in May and described the decision to give him the title "interim manager" as a "massive mistake".
He told BBC Radio 5 live: "Chelsea gave me the title of interim manager, which is a massive mistake. I'm the manager.
"The fans are not helping us. At the end of the season I will leave. They don't have to worry about me."
Benitez's defiant post-match interview came after the former Liverpool manager was once again targeted by a section of his club's supporters.
Asked a question about the importance of the FA Cup, Benitez responded with an outspoken rant in which he said:
He would leave the club in the summer;

The "interim" title was a "massive mistake";

He was only given the title so the club could "wash our hands" of him if he failed;

Supporters were "wasting their time" in protesting against him;

Fans' actions could cost the club a top-four place;

The only reason supporters are unhappy with him is because of his Liverpool background.
The 52-year-old has been unpopular with some Blues fans since he took over from Champions League-winning manager Roberto Di Matteo in November.
The spokesperson for Chelsea fanzine cfcuk, David Johnstone, believes Benitez can now expect the protests to increase when they host West Brom in the Premier League at Stamford Bridge on Saturday.
He said: "If he is there for Saturday's game and if he thinks it was bad last night, he will get it in spades. He might have more than a banner, he might have his P45."
A section of the club's supporters was unable to forgive or forget Benitez for his association with Liverpool, and the acrimonious rivalry formed with then Blues boss Jose Mourinho.
Benitez outwitted "The Special One" in the 2005 and 2007 Champions League semi-finals and the 2006 FA Cup semi-finals, and directed some barbs towards the club.
"I have been in charge in football for 26 years, I won the Champions League, I won the Fifa Club World Cup, the FA Cup, the Italian Super Cup, the Spanish league twice, nine trophies - all the trophies you can win at club level," said Benitez after a comfortable victory at the Riverside.
"So this group of fans are not making any favourites with the team and they are singing and wasting time preparing banners.
"They have to concentrate on supporting the team, that's what they have to do.
"Every game they continue singing and preparing banners, they are wasting time. What they have to do is support the team.
"I am a professional and I am doing my job. What I want to do is win every single game for Chelsea."
Reports emerged from Stamford Bridge earlier in the week that Benitez was involved in a heated exchange with members of his squad after their 2-0 defeat at Manchester City on Sunday.
Before the FA Cup tie with Middlesbrough, Benitez insisted he had a "fantastic" relationship with the players.
He reiterated his satisfaction with his squad after they set up an FA Cup quarter-final clash with Manchester United.
"I have a top side and a good group of players who work hard and it is a top club, it is not a problem," he said.
"The problem is a group of people who can say what they want."
Chelsea have won 14 of 27 matches since Benitez took charge and are fourth in the Premier League, 19 points behind leaders Manchester United.
The former Inter Milan boss said he would be "the happiest man in the world" were the club to qualify for the Champions League, but questioned the decision to call him 'interim manager'.
"I have a title. Someone decided the title would be interim. Why? Just in case?" said Benitez.
"Fine, that is your decision. I don't agree, but that is your decision and now everybody has to take responsibility.
"Everybody is interim because after you there is another one. In this case they didn't have anyone, so why did they put interim?
"It's just to say to everyone: 'Because he was in Liverpool and just in case, we will put interim and then we will wash our hands'.
"Was the title a mistake from the start? Yes, 100%."
Benitez insists he was unaware he would be called the "interim manager" when he took charge at Stamford Bridge.
"I didn't know about the title," He added. "Obviously, you have an agent, they have to talk in Spanish-English translation, and I was surprised.
"But I couldn't change things because it was done. I thought it was a mistake, but still I couldn't change anything.
"I can't change the titles and the perception so it doesn't matter now. What I have to do is be sure that I give 100% every single day. They will know I am trying to do my best.
"The manager is the manager. One month, three months, seven months - it doesn't matter.
"I think the reason why the group of fans is not happy is because I was Liverpool manager, we played in the Champions League, massive games, that's it."
Benitez claimed supporters' protests against him were not helping the team achieve their aim of a top-four place and suggested they could be blamed if Chelsea end up playing Europa League football next season.
He added: "If they want to carry on wasting time with these things because they have an agenda, they have to take responsibility if something is wrong.
"It's not just 'I will blame this one, I will blame the other one'. What they have to do is to support the team and then everyone has to stick together and we can achieve what we want to achieve - that is the Champions League. Simple.
"If not then next year they can carry on singing but we will be in the Europa League so they have to realise that they are not making any favour - to the rest of the fans and also to the players."
David Johnstone, spokesperson for Chelsea fanzine cfcuk, says Benitez was wrong to target fans in his outburst.
He added: "As for Rafael Benitez trying to blame supporters, unfortunately we don't pick the team otherwise if we did there would be changes.
"We support the team every week, we support John Terry and Frank Lampard, and we would like to see them playing more."
"Last night he said he was disappointed with some fans, well last night it was 99 per cent of those supporters there. You can't go upsetting Roman Abramovich, Rafael Benitez has had a brilliant contract from him. He should have got his head down and got on with the job."