Was Benitez doomed from the start at Chelsea?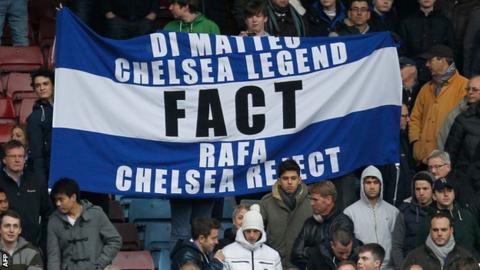 Rafael Benitez knew exactly what he had signed up for when he walked into Stamford Bridge's Tambling Suite three months ago as Chelsea's new interim manager.
Chelsea's managers are all effectively "interim" - subject to the whims of owner Roman Abramovich - but Benitez had the actual title and all that went with it.
He knew he was interim - Chelsea used the very word in an official statement to announce his appointment - and he knew he was replacing a revered figure in Roberto Di Matteo following his sacking only six months after winning the Champions League. Most of all he knew he was a hugely unpopular appointment with many of the club's supporters.
Benitez also knew he was occupying the manager's office while Abramovich planned, in vain as it transpired, to replace him with Pep Guardiola.
He said and did all the right things. The fans were "clever". The job was "perfect". Working for the ruthless Abramovich would be "easy".
Those optimistic words did little to disguise the unspoken sub-plot to Benitez's arrival at Chelsea. This had all the hallmarks of a footballing marriage made in hell.
This was a manager who loves total control working for an owner who would never give it to him, in a temporary tenure overseen by a discontented fanbase who grew to dislike Benitez during his time at Liverpool. These feelings grew during two Champions League semi-final victories and an FA Cup semi-final win against someone who was beloved at Stamford Bridge but who became his bitter adversary, Jose Mourinho.
Less than 100 days later, some things remain the same but so much has changed. And it all came pouring out of a frustrated Benitez after the FA Cup fifth-round win at Middlesbrough on Wednesday.
If Benitez was not a lame duck at Chelsea before travelling up to the Riverside Stadium, he is now. Slowly but surely the unique demands of managing a club that almost thrives on chaos, as well as dealing with a group of disaffected fans who would chant abuse given any encouragement, wore him down.
He was also Abramovich's human shield. Disliked anyway, he was always going to be the lightning conductor for those supporters upset by Di Matteo's sacking because the Russian is rarely a target for any criticism. This is because a deal has been made.
Abramovich provides the millions to win the trophies, as he has done very successfully, and Chelsea's fans must accept how he runs the club, whether they like it or not. Benitez is not subject to such an unwritten contract.
If he is still at Stamford Bridge when West Bromwich Albion arrive on Saturday, as now seems likely, it is a safe bet he will not be feeling a sudden groundswell of goodwill from those in The Shed or Matthew Harding Stands.
The so-called "rant" contained some salient points, particularly when he suggested the malign atmosphere created by supporters could have an impact on team performances to the extent that Chelsea may not even finish in the top four, but surely little else would have surprised him.
Benitez walked to the technical area to face Manchester City on 25 November and was swiftly acquainted with how he was regarded. Jeers rang around and have continued ever since - although the Spaniard has always insisted he was so focused on events on the pitch it has never bothered him.
He has heard them now and it was clearly one of a number of factors that provoked that incendiary reaction at Middlesbrough.
Benitez's complaint about the title of "interim" manager is a red herring. He knew that was his title, so he can have no comeback now. If it is "a massive mistake" now, then it was "a massive mistake" when it was handed to him and he seemed happy enough in November.
But as well as mixed results - damaging home defeats in the Premier League to QPR and in the Capital One Cup semi-final to Swansea City did much to cement disaffection at a time when he may just have changed a few minds - Benitez has had to deal with the daily facts of life at Chelsea.
Frank Lampard's contract situation, or lack of one, rumbled on in the background with Benitez powerless to resolve it and recently there was talk of a rift with members of his squad unhappy with his methods.
Of course this is par for the course at Chelsea. Plenty of his predecessors have had to deal with stories questioning their management skills when results have gone awry - history tells us their players are rarely ready to take the blame for any poor results.
Perhaps the root of the remarks that have effectively finished Benitez at Chelsea is the fact that a personality who feels he needs to have full power to exert his expertise felt powerless in too many regards. It finally pushed him over the edge.
As and when he goes the wheel will start to spin again. Abramovich's options are somewhat limited but he will pull off quite a coup if he manages to appoint a successor more divisive and unpopular than Benitez among Chelsea's support.