John McGlynn departs Hearts manager position
Last updated on .From the section Football117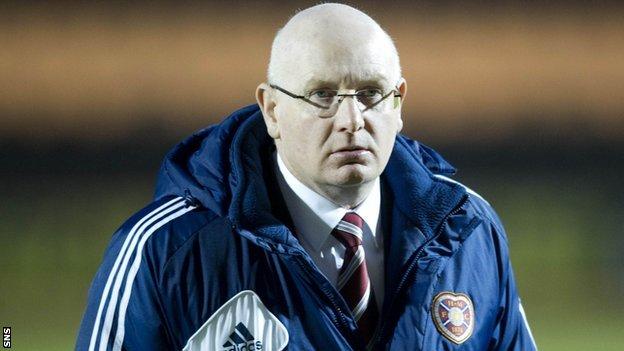 Hearts manager John McGlynn has left the club by mutual consent.
The former Raith manager took over in June 2012, but leaves with the financially-troubled club second-bottom of the league.
Defeat by St Mirren on Wednesday meant the Paisley side leapfrogged Hearts in the Scottish Premier League.
"The over-riding factor in this decision was the long-term well-being of Heart of Midlothian Football Club," said a club spokesperson.
"When John came to the club, Hearts were embarking on a transitional phase in the club's history.
"He began that important period of change and it is now imperative we find the right man to take the transition forward."
McGlynn admitted his sadness at leaving what he described as a "dream job".
"I was very grateful to be given the chance to become the Hearts manager as it was my dream job," he told the club's official website.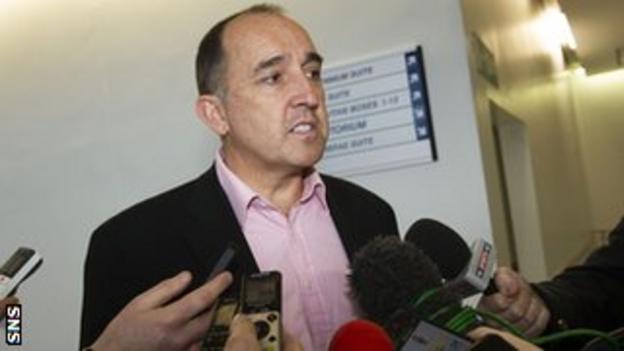 "It is unfortunate that things didn't turn out the way I wanted them to and I am gutted about that.
"I don't think I could have done any more but the league table doesn't lie and I know it is a results-driven business."
Coach Gary Locke and player development manager Darren Murray will take charge of the team on an interim basis.
Managing director David Southern said Hearts would "not rush the job of appointing a new manager".
"It's absolutely crucial we get it right," he explained.
"We don't want to categorise anything in terms of who that manager might be, where they might be, whether they'll be with a club or not with a club or what their nationality might be.
"Potential candidates should be fully aware of the scale of the job they're taking on and the size and importance of Heart of Midlothian Football Club to so many people.
"Hearts, I believe, have the second-highest playing salary bill and we should be performing much better than we are.
"What we have at our disposal are some very talented young players and, indeed, John played his role in bringing those young players through to the first team.
"However, we shouldn't forget there are also senior professionals at this club. They also have a role and responsibility to the club.
"The secret will be to merge and blend those senior players with the young players to establish a successful team and a team with a winning mentality."