Derby County: Nigel Clough puts faith in youth set-up
By Owen Phillips
BBC East Midlands Sport
Last updated on .From the section Football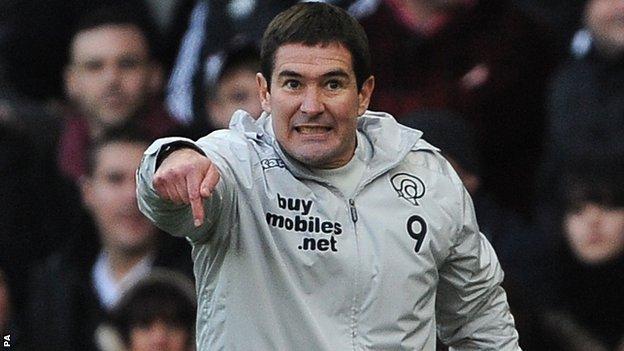 Nigel Clough has often talked of his desire to see the job through at Derby County.
He inherited a club in turmoil when he was appointed manager in January 2009 and although a miserable recent run of one win in nine has all but ended any hopes of a play-off place and there is still work to be done to ensure their survival, he insists there are clear signs of progress on and off the pitch.
"The bigger picture is that we are much better off than we were a few years ago - we think," Clough told BBC East Midlands Sport.
"We might not end up with as many points as we did last season. We will try, but if we don't, we still know there has been an improvement, because of the performances and level of play. And the stats tell us that as well.
"The wage bill has been reduced substantially. We have assets on the pitch and we have a young team on the pitch who are absolutely working their socks off and I cannot ask any more in terms of the effort they are putting in."
A truly disastrous, record-breaking 12-month stay in the Premier League in the 2007-08 season left the Rams saddled with a huge squad and an unsustainable wage bill.
Unrest and gloom surrounded the "worst team in Premier League history" as they looked to adjust to being back in England's second tier. Fans of local rivals Nottingham Forest and Leicester City lapped it up.
Since then, however, a certain level of managerial mayhem has occurred at Derby's East Midlands rivals.
In the time that Clough has been in charge, Leicester and Forest have both gone full circle.
Nigel Pearson and Billy Davies are back in charge at their respective clubs, but in between Pearson's two stints, the Foxes have had three other managers, if Mike Stowell is included, while the Reds went through four bosses before Davies returned - with the former Derby manager becoming Forest's fourth boss in seven months.
It has "worked", but a cost. Both Leicester and a resurgent Forest and are well set to end the season in the play-offs, but both have wealthy owners who have invested heavily.
Derby's owners have been more pragmatic and Clough has had to rely on scouting the lower leagues and bringing through young talent.
But he hopes the dissenting voices questioning their failure to build on another decent first half of the season and challenge for promotion to the Premier League, delve a bit deeper
Clough points to the academy which has produced numerous players for the first team - notably England Under-21 midfielder Will Hughes and Jeff Hendrick, and more recently Mason Bennett.
He said the success of the youth team - which beat Manchester City, before narrowly losing to Chelsea in the FA Youth Cup quarter-finals - shows the future of the club is in excellent hands.
"It's a vital part of the club," Clough said. "We made a conscious decision four years ago to say 'let's get the academy sorted'. We hadn't produced enough players and we made a big effort to concentrate on our local area and get as many players under our umbrella as we could.
"We were losing players to other clubs in the Midlands and we tried to put a stop to that, and I think Darren Wassall and his staff have worked wonders in the last four years.
"We want consistency of message all the way through and we are all on the same page.
"Re-vamping the first team has also gone hand in hand with the academy and it has got to be viewed as one.
"We have tried to embrace the academy and make it part of the first team, which it is - especially when we have as many players as we have who are eligible for the youth team and are playing in the first team.
"Unless you give them a go you never know about them. Jeff Hendrick was the first one at the start of last season. We didn't earmark him as a first-team starter but we had to throw Jeff in. You have to give them that opportunity and that's what we will do here.
"What Darren says is that it is his best recruitment tool when they are trying to convince parents and players to come and join us. They can see a clear pathway through to the first team and they will get an opportunity, whether they are 15, 16 or 17."
Derby's coaching staff is packed with people he has known for years. Gary Crosby, Johnny Metgod and Wassall were also schooled at the City Ground under Clough's father, Brian.
It is no surprise Clough Jr wants to replicate the policy which served his father so well.
"You cannot introduce it overnight," he explained. "There has been a big turnover in the academy coaches and staff to get people in who are likeminded.
"It was just the principles we have been brought up on. We were Forest for so long and the youth team was always an important part of the setup."
Patience and a long-term approach rarely seem to go together in football, but Clough believes ploughing time, money and thought into the Rams' youth system is the best way forward.
"That's what people won't see [work behind the scenes]," Clough said "And if you just judge us totally in terms of points [for the first team], we are probably not doing as well as people would expect.
"But we don't have a short-term view, otherwise why are we looking at 13-year-olds?
"I don't think we will be around but what we are trying to do is put structure in place that will benefit whoever is here in a few years.
"The academy should almost be ringfenced and whoever comes in next, I hope they have the sense to leave it alone and let it continue working. The problem will come if they change the philosophy totally and you have the first team playing one way and the academy playing another."