Brighton: Andrea Orlandi looks to emulate Swansea
Last updated on .From the section Football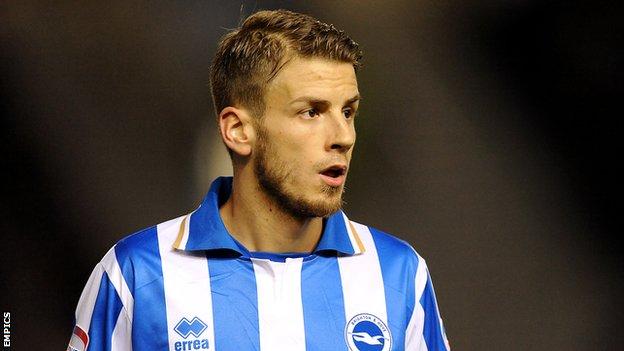 Brighton midfielder Andrea Orlandi hopes the club can emulate the success of his former club Swansea City.
He told BBC Sussex: "It has been a great journey for Swansea. When I signed they were in League One and nowhere near as good as they are now.
"It's the same style of football here as well. Getting promotion has to be the next step for Brighton, hopefully."
He added: "The clubs are similar. They are both good, well run clubs who don't do anything stupid.
"They don't spend stupid money on players. They just bring in the right players at the right time."
Orlandi joined the Welsh side on a free transfer in September 2007 and went on to score three goals in 80 appearances for the club.
The former Barcelona B and Alaves man travelled to watch his former side beat Bradford in the League Cup final last Sunday.
"To see them win a trophy at Wembley, I wanted to be there to experience it and enjoy it," he said.
"It's an unbelievable story, for them to get their first trophy and to play in the Europa League. I'm really happy for them."
Having scored five goals in 25 games for Brighton since his move to Sussex, Orlandi is targeting a return to Wembley in May for the Championship play-off final.
The Seagulls moved into the top six for the first time since October following their 1-0 win over Burnley on Saturday.
"I went to the final with [Albion right-back] Inigo Calderon and we were talking about it," Orlandi continued.
"We were taking measurements of the Wembley pitch and saying it would be great to go back there with Brighton.
"I always had confidence in the squad. It was really up to us to perform and win games.
"We were not winning when we had to and maybe now we are getting a bit of luck we didn't have before."