Bury: Kevin Blackwell says some of his squad playing for free
Last updated on .From the section Football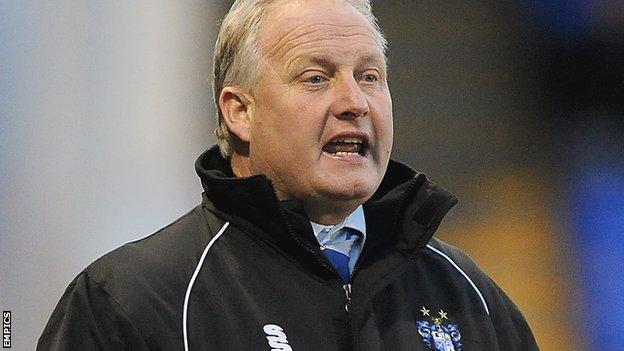 Manager Kevin Blackwell has revealed that "three or four" members of Bury's first team are currently playing for the League One strugglers for free.
The Football League for the second time this season on 22 February.
"There are three or four here who don't earn a penny and I can't thank them enough," he told BBC Radio Manchester.
"I've said to those players 'even though I can't pay you, I'll play you' and they've accepted it."
Blackwell, who was appointed in September, continued: "The press officer showed me a contract that was signed here in 1925 and the player earned something like seven pounds in old money. There are three or four lads who would love to earn that a week.
"These players are putting their careers on the line and hoping to re-establish their careers for nothing."
Bury were placed back under the transfer embargo after obtaining a loan from the Professional Footballers' Association to solve a cash flow problem.
They were having previously received a loan from the PFA.
once it had been repaid in full, allowing Blackwell to add several fresh faces to his squad.
With several Football League clubs struggling financially, the former Leeds and Sheffield United manager has warned that the future of clubs like Bury may effectively be as a feeder team for top Premier League sides.
"Since I've been here, I think we've taken 10 loans from clubs - all players under the age of 21," said Blackwell. "If they hadn't come here, their development time would have been zero at the clubs they were at. We need clubs like Bury in the Football League to develop players.
"I had Kyle Walker at Sheffield United and I loaned him out to Northampton. Those 20 games at Northampton were invaluable before I put him into the [Sheffield United] first team.
"I look at clubs around here, like Manchester United and Manchester City, and they should be knocking on our doors saying they've got some terrific youngsters and they need games. That's maybe a way forward for the club.
"People might not want to hear that, but when you look at the players we take in on loan now - and it's not just us - they are the younger players from Premier League clubs.
"What does that make you? It effectively means you're nurturing, teaching and feeding them back to their parent club a better player.
"Gone are the days where clubs like ours can buy players and have 22 players where they're all your own. We can't carry that sort of number and we have to augment that with players from big clubs."