Blackburn: Gael Givet comments "a misjudgement" - Appleton
Last updated on .From the section Football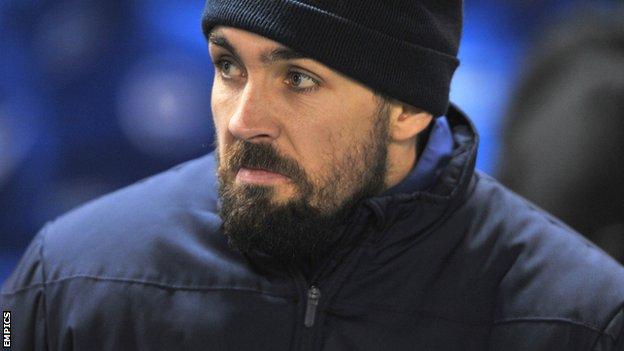 Manager Michael Appleton has described Gael Givet's comments about his time at Blackburn Rovers as "a misjudgement".
Defender Givet, 31, has not featured for the first team since 11 January.
In an interview with French newspaper L'Equipe, he joked that he was so disillusioned he would have killed himself had it not been for his family.
"Regardless if the type of words used were tongue-in-cheek, it was a big misjudgement from his point of view," Appleton told BBC Radio Lancashire.
"I'm sure he didn't mean it to come across in the way it has.
"I've not had a conversation with Gael about it as such yet, because I didn't see the reports until Thursday afternoon.
"I want people to be disappointed if they're not getting enough game time, but the words he used were probably the wrong ones at the wrong time."
In the interview, Givet added that Rovers were asking around £3m for clubs to sign him and that he believes his career at Ewood Park is over.
Appleton revealed he had "an open and frank conversation" with Givet last week about the player's future and his absence from the first team, where it was concluded that the ex-Marseille man needed to improve his fitness levels.
And the former Blackpool boss has said he would have no hesitation about putting Givet into the starting line-up if required.
"Myself and Gael are in a pretty decent place - we both know where we stand," continued Appleton. "Whether he's got a future at the football club, obviously time will tell. We'll see what happens in the summer.
"But as far as I'm concerned, I'm happy knowing that he's doing extra work every day and if we need to call on him, I'd be happy to do it."