Rangers: Charles Green says club stance on titles vindicated
Last updated on .From the section Football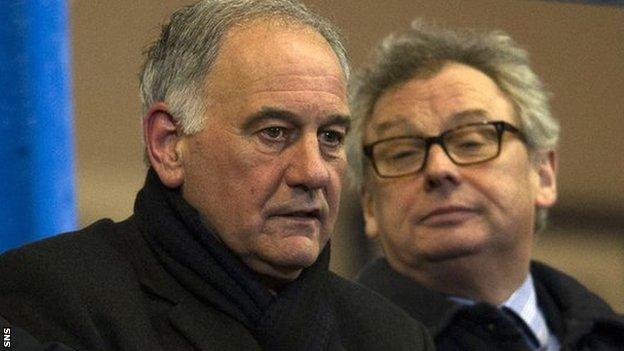 Rangers chief executive Charles Green claims the outcome of an investigation into payments to players "vindicates" his decision not to "surrender titles".
An independent commission was appointed to assess allegations of undisclosed payments between 2000 and 2011.
Green's consortium bought Rangers' assets to re-form the club.
And he says he was asked to give up titles previously won by the Ibrox side as part of a condition of gaining Scottish FA membership.
The Lord Nimmo Smith-chaired commission appointed by the Scottish Premier League have fined the company that previously ran Rangers £250,000 for non-disclosure of payments to the football authorities.
However, the judgement ruled that no sporting sanction, such as removing titles, should be applied, with Rangers having won the SPL five times during the period in question.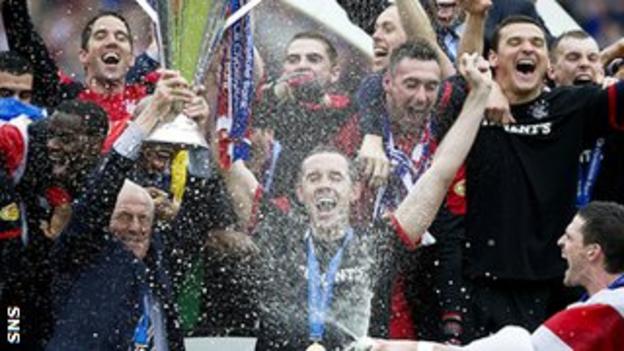 In a statement, Green said: "It is abundantly clear from the ruling there was no attempt by Rangers to secure any unfair advantage or to cheat, as so many people asserted without giving any regard to the actual evidence.
"At no stage have I, nor anyone now involved in the running of this club, questioned the integrity of the commission members. What I did question was the creation of a process which some people had predetermined.
"Every Rangers fan will be delighted that the commission refused to get carried away on this agenda.
"It is a matter of fact that people within the SPL wanted me, at first, to surrender titles as part of a deal to enable Rangers to play again as a member of the SFA. I rejected and resisted that suggestion and today's decision vindicates the position of the board and the supporters.
"It is fair to say that there was, at one stage, a very unhealthy desire to press on with an investigation into this matter when cool heads and clear thinking was required. Instead, there was a frenzied atmosphere around Rangers caused by the club's insolvency situation.
"This issue could have and should have been dealt with by the board of the SPL rather than embarking on an unnecessarily grand and expensive process. At the end of the day I am left with the impression that this has been much ado about very little and a great waste of energy, time and money.
"It is time everyone moved on. We, as a club, will work with all parties who have the good of the game at heart. We are rebuilding this club and are making great strides. The dark days are over and it is time now for all to embrace our ambition for a brighter future."