Arsene Wenger: Arsenal have no special plan for Gareth Bale
Last updated on .From the section Football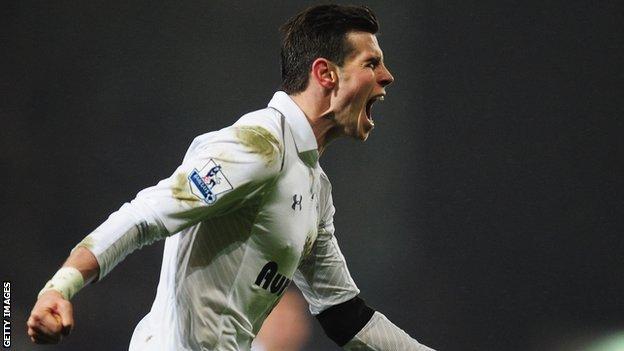 Arsenal manager Arsene Wenger says he has not prepared any special tactics to deal with Tottenham's Gareth Bale in Sunday's north London derby.
"We don't plan for anybody. It is always the same - focus on our strengths and forget about your opponent." said Wenger.
"There is nobody special that you least like to face," he added.
"All players have different qualities."
Bale has been named player of the month for February with his manager Andre Villas-Boas taking the manager award.
Wenger had been interested in signing Bale as a youngster at Southampton but opted instead for Theo Walcott.
When asked if he had had any regret over the decision Wenger said: "No, that's not a subject [for today]. It would be a mistake to focus on any player from Tottenham."
The Arsenal boss has come under increased scrutiny in recent weeks as the club lost in the FA Cup to Blackburn and suffered a set back in the Champions League last 16 with a 1-3 home defeat to Bayern Munich.
Wenger said he believed his team had great potential and morale was high after victory against Aston Villa and the team's recent strong record in the league.
"Looking at the last 12 games, we've won nine, drawn one and lost two and got 28 points out of 36, so our record is quite good," he said.
"We go into every single game as a must-win game and we have exactly the same approach."
The Gunners are two points behind fourth-placed Chelsea - and can reduce the deficit against Spurs to just one point if they win on Sunday at White Hart Lane.
Wenger acknowledged the boost that Sunday's game will give the victors saying: "The game on Sunday will have a psychological importance for the rest of the season".
Last season the Gunners overturned a 10-point Tottenham lead to take third place.
Responding to a question about Rafa Benitez's criticism of Chelsea supporters, Wenger said he had never criticised his own fans but acknowledged that managers were under more pressure in the modern game where every decision is analysed.
"I have a sense of solidarity for every single manager because I'm in the same job and I know what they can go through," he added.