Sir Alex Ferguson will 'probably' become a Man Utd director
Last updated on .From the section Football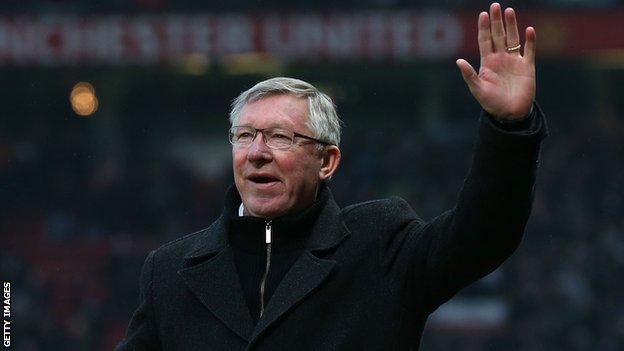 Manchester United manager Sir Alex Ferguson says he will probably become a director of the club, but hopes such a move is "a long time away".
Ferguson, 71, believes the Old Trafford club can copy the Bayern Munich model, where club legends remain as ambassadors.
"There's no getting rid of me. I will probably become a director," Ferguson told twentyfour7 magazine.
"Nobody knows. Neither do I. It won't be a doctor that tells me to quit."
Ferguson, who is in his 27th year as manager of the 12-time Premier League champions, admires the Bayern structure and can see the benefit of retaining managers and former players who are steeped in the history of the club.
German side Bayern employ former forward Uli Hoeness as president and ex-striker Karl-Heinz Rummenigge as chief executive.
Sir Bobby Charlton, who is regarded as one of United's finest ever players after scoring 249 goals in 758 appearances, has been a director at Old Trafford since 1984.
"The role Sir Bobby Charlton has played at the club has been fantastic," said Ferguson, speaking at his news conference ahead of Saturday's home game with Norwich City.
"He has been a tremendous support to the manager and a lot of the players.
"I think Bayern Munich is the perfect model. It's no problem having a replica of that for this club who have had so many great players over the years and who are now ambassadors, like Andy Cole, Bryan Robson, Peter Schmeichel.
"There are quite a few of them here now and that's a role we should be using as well."