Hearts: Interim boss Gary Locke not looking beyond first game
Last updated on .From the section Football12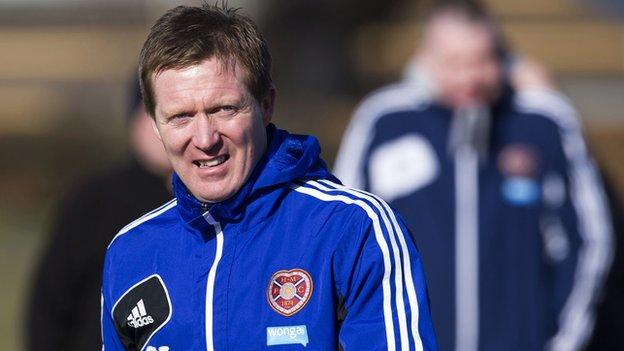 Interim boss Gary Locke says the Hearts manager post is "a dream job" but insists he has not given much thought to taking up the role permanently.
"I don't really think I need to apply. I'm here, they know I'm here and they know what I'm capable of," said Locke.
"This is a fantastic club with a fantastic history."
The former Hearts captain believes the club has "huge potential" and was asked whether he thought he would be in charge for the Scottish Communities League Cup final against St Mirren on 17 March.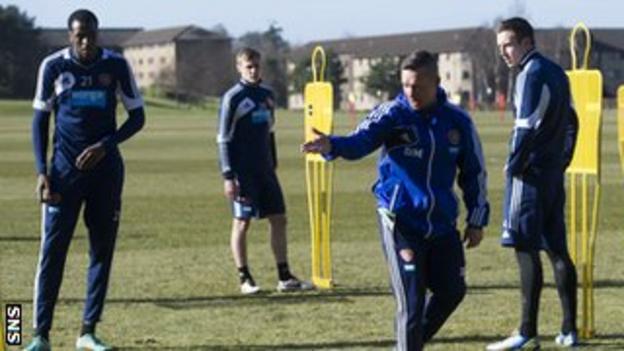 "I've not looked that far ahead," Locke explained. Me and Darren have been told that we're in charge for one game and that's as far ahead as I'm looking at the minute.
"I've never been a manager before. I'm a positive person. This club means a lot to me. I just want to see Hearts winning.
"I've been here as a first team coach for three-and-a-half years now. I love working with the players. Hopefully that can continue.
"They are talking to candidates as far as I believe. If they think I'm the man for the job then great. If not, who knows what will happen.
"Hopefully, we can finish the season on a high, that's certainly what we aim to do. It's going to be difficult. We haven't had enough good results this season. If we can get a couple of wins then who knows where we could end up."
McGlynn left Hearts by mutual consent on Thursday, with the Edinburgh club second bottom of the SPL.
"His work-rate at this club was phenomenal," said Locke of McGlynn. "He was here first thing in the morning till sometimes 10, 11 o'clock at night. He watched games all over the place.
"His reputation in the game, certainly, is very, very high. I spoke to him late last night and I really enjoyed working with John.
"I wish him all the best in the future. It's not great the way it's worked out."