Cardiff City chairman Dato Chan Tien Ghee resigns
Last updated on .From the section Football80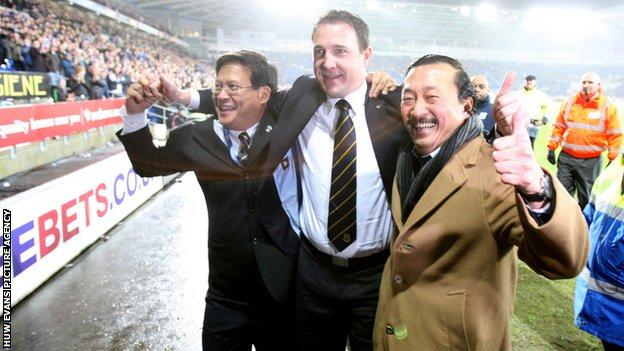 Cardiff City have confirmed Dato Chan Tien Ghee has resigned as chairman.
Ghee, known as TG to fans, persuaded Vincent Tan to buy into Cardiff City when the club was having financial difficulties under Peter Ridsdale.
The Malaysian has been chairman of Cardiff since May 2010 and a director since May 2009.
"TG is embarking on new career and business pursuits that require his full attention," said a club statement.
"Given constraints of time and distance, TG believes he is unable to meet the demands of his position as chairman and board member of Cardiff City Football Club.
"We are greatly indebted to TG who since joining in 2010 has been instrumental in the progress of the club to where it is today, and we wish to record our deep appreciation for his invaluable contributions and efforts."
TG was a business partner of Vincent Tan's when he urged dollar billionaire Tan to become another of the club's Malaysian backers.
In a separate move, Cardiff City manager Malky Mackay has told supporters they have "nothing to fear" following a BBC interview with owner Vincent Tan where he declined to rule out the club becoming known as Cardiff Dragons.
Tan later issued a statement intended to reassure fans of the Championship leaders, saying the name would not change.
In his BBC interview, Tan had said promotion to the Premier League could trigger further "rebranding" and did not rule out a name change
The Malaysian billionaire has already insisted upon a colour change from blue to red, as well as a new club crest.
On Friday, Mackay accused the BBC of mischief-making.
"They have nothing to fear - we are Cardiff City Football Club, that is what we are," said Mackay.
"The fact it is then broadcast out there means we had to clarify, which the owner immediately did the minute he was able to," said Mackay.
In the interview for BBC's Sport Wales programme broadcast on Thursday,
Tan, who has an estimated wealth of $1.3bn, wants Cardiff to maximise all possible revenue and marketing opportunities in Asia.
After buying more than 35% of the club's shares for £6m in 2010, in June 2011 the 61-year-old Malaysian threatened to withdraw his support unless the club agreed to ditch its traditional blue home shirts in favour of red ones.
The new colours were accepted, as was a new badge as a Welsh dragon gained greater prominence than the club's traditional bluebird, and further investment followed.
In the interview with BBC Wales' Sport Wales programme, Tan justified the "controversial decision" of changing the club's colours, and stressed he was prepared to, and intended making, more changes.
But Mackay has called for the Cardiff City supporters to "trust" Tan and underlined the financial investment he has made since he took control of the club.
"What he said and the statement he released yesterday was that he is not going to change the name," said Mackay.
"I would ask our fans to trust the man because whatever he says he goes and actually does.
"To this point he has said this season he will put money behind the team and he did, and he has put £50-odd million into the team and the football club over a period of years.
"So I just ask our fans to keep backing the football team and trust him and myself and my staff to do things in the best interest of the football club.
"I would ask people to look at the evidence of someone who has put £50m in and not taken a penny out."