Off The Bawl - 23 February
By Tam Cowan
Off the Ball presenter
Last updated on .From the section Football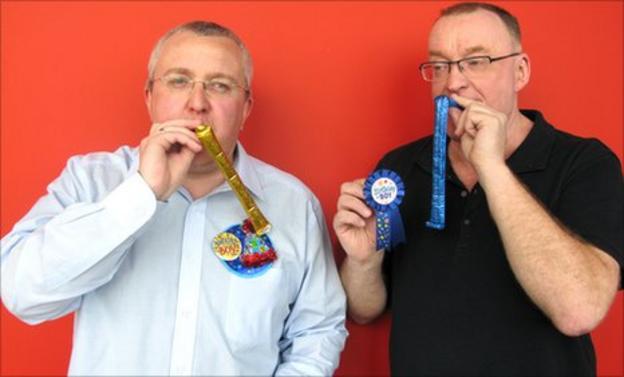 Greeeeeetings!!! And, just when you thought Off The Ball couldn't get any more bizarre, we start with an apology to 007...
On last Saturday's show, Tam happened to mention that George Lazenby (who played James Bond in On Her Majesty's Secret Service) had gone to that big secret service agency in the sky.
Talk about petty and ill-informed?
As Al Hine in Kirkwall quickly pointed out: "George Lazenby is very much alive and kicking and is scheduled to appear at the Oscars on Sunday night."
Oops... sorry George!
Meanwhile, is Scottish football too dear? That was the question we posed after just 4,500 turned up at Fir Park for The Second Coming of James McFadden when Motherwell played Dundee Utd.
(As Lindsay from Dundee asked: "Hey, Tam, any truth in the rumour that, just before kick-off, Faddy asked Gary Mackay-Steven for his autograph?")
In the week a Coventry City fan blasted his team on a radio phone-in for a 0-0 draw against Crewe (only to be informed they'd scored two goals in injury-time!) we asked if you've ever left a game early.
As a tribute to Jim Spence's barnet - the amazing ginger busby that became an internet sensation after billowing in the breeze at Dens Park - we wanted to hear about your brush with the barber's.
(Incidentally, Jim broke the news of John Brown's appointment at Dundee live on Off The Ball at 1.30pm - our first exclusive in 18 years!)
And, as a nod to the wonderfully-named soul singer Cleotha Staples who passed away last week (was that a wee tear in Cosgrove's eye?) our team of the week was The Stationery XI.
Here's another selection of the most petty and ill-informed texts and emails on radio...
IS FOOTBALL TOO DEAR?
Joe in Fife said: "Football has too many creative accountants and not enough creative business people. That's why it is a terrible product. Too expensive, riddled with debt and complex financial rubbish. It needs innovative business thinking, not bean-counting penguins."
Connor Doherty said: "Going to a recent Celtic v Aberdeen game by train, it was £54 for a return ticket on the train and another £29 at the gate. Sorry, but 83 quid to watch a game of football is way too much and I've only missed five Dons games this season."
However, Steven in Glenrothes said" "It annoys me to hear folk describe football as being too expensive before adding the words 'By the time...'. Are we to believe everyone who goes to a game takes a couple of kids, buys food & drink, a match programme and flies business class via Singapore from Thurso? These are the same muppets who complain about the price of food at the cinema - as if they couldn't last an hour and a half without stuffing their faces."
LEAVING EARLY
Gary in Dundee said: "I went with a Lichtie pal to the Celtic v Arbroath cup tie this season. The couple behind us in the Arbroath end left not five or 10 minutes early... but with a whole HALF-HOUR still on the clock! And, yes, they missed Arbroath's last-minute equaliser that famously secured a replay. Bampots!"
Angus in Auchenblae said: "A pal of mine who supports Liverpool lived in Milan in 2005 when Liverpool played AC MIlan in the Champions League Final. He watched it in a local bar and was on the receiving end of many a taunt when AC surged into a 3-0 lead. In fact, he went home to his bed, missed the second-half and didn't realise his team had lifted the trophy until the following day! Needless to say he is often reminded of this terribly poor decision."
Douglas Mackay said: "I left a game when Partick Thistle were losing 3-0 to Gretna with just six minutes to go. By the time I got to the pub, it was 3-3..."
Anon said: "I went for a pee in the Parc de Prince, heard a massive roar from the Tartan Army and, when I came back, we were 1-0 up. My mates told me it was a scrappy two-yard effort - and I believed them until I got home..."
BRUSH WITH THE BARBER'S
Bryan said: "I'll never forget Les the barber in Birkenhead in the 70s. He had those fading black and white photos of fella's heads all around the shop, each with a number scribbled in the corner. Decision made, us kids would ask for No.34, No.25, No.78 or whatever, but it didn't really matter. Les only had one style - and that always included getting your ears nicked with the clippers. Still, he always gave us 10p to spend on sweeties at the newsagent's next-door, so fair play to the guy."
Jim Beaton in Gourock said: "My haircut faux pas came in 1978 when I got a perm to show my support for our boys at the World Cup. I got home and my brother took the wind out of my sails by saying I looked like a lavvy brush."
TEAM OF THE WEEK
The Stationery XI (aka Printer Milan)
Chief Executive: Jim Farry (a wee ruler)
Manager: Marcello Paper Clippi
Match Referee: Bob Valentine Card
1/ Pens Lehman
2/ Stephen Crayon
3/ Tommy Ring Binder
4/ Paul McStaytionery
5/ Vincent Compassy
6/ Bic Davidson
7/ Wee Inky Johnstone
8/ Glue Macari
9/ Graham Sharpener
10/ Steve Bulldog Clip
11/ Paul Wrighting Paper
(NB. No place in the team for Leigh Griffiths as he doesn't appear to use a rubber...)
To join in the fun on this Saturday's show, call 0500 929500, text 80295 or email offtheball@bbc.co.uk
Listen to the most recent Off the Ball programmes.
Download the latest Off the Ball podcast.