Postponed Premiership protest game rescheduled for Seaview
Last updated on .From the section Football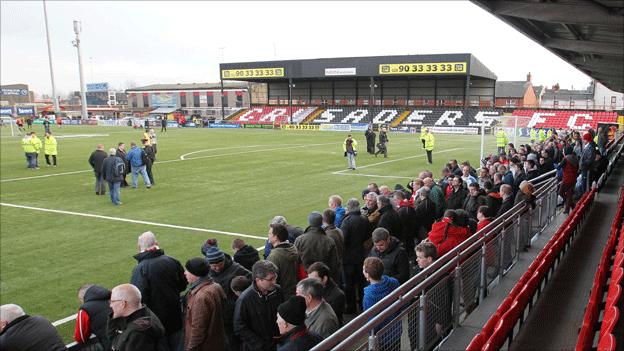 The Irish Premiership game between Crusaders and Cliftonville which was postponed on 16 February because of a loyalist protest has been rescheduled for Seaview on Monday, 25 March.
The match was called off on security advice following a loyalist protest outside the Crusaders ground.
However, both clubs insisted that they wanted the match to return to Seaview.
An Irish FA statement on Friday said that the game had been rescheduled for the North Belfast venue.
Following the postponement, Crusaders director Mark Langhammer said that all local "community interests" had been consulted prior to the scheduled match.
"We had worked from November with local residents to make sure this game was on," said the Crusaders director.
"Local residents from Skegoneill Avenue did come to us in November. They had concerns and they put them to us strongly and robustly but fairly.
"We were absolutely clear that there was no interest in the local community that was unhappy with this match going ahead."
Cliftonville chairman Gerard Lawlor also said after the postponement that relationships between the two clubs had "never been better".