Rangers: 'Cheating' suggestion hurt boss Ally McCoist
Last updated on .From the section Football38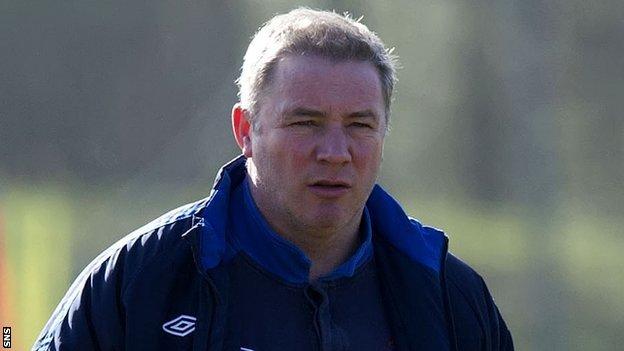 Rangers boss Ally McCoist feels it was "pretty out of order" that the Ibrox club faced suggestions that they had tried to gain an unfair advantage.
The commission deemed that no sporting sanctions, such as the stripping of titles, would be applied.
"I think in certain cases, we were being prejudged," said McCoist.
"I'm not trying to belittle the guilty verdicts that have been found on us. We accept them and we apologise for them.
"But in the grand scheme of things, the far bigger issue was the finger being pointed at us in terms of sporting integrity and trying to gain an unlawful advantage. In fact, cheating, which we felt was pretty out of order really.
"Thankfully, we have been totally vindicated and cleared in those cases.
"The only decision that really matters is [commission chair] Lord Nimmo Smith's, who has got a track record of making important decisions.
"I would imagine he's got the vast majority of them correct and we feel he's got this one correct as well."
Rangers started this season in Division Three following financial problems last year and are on course to win promotion.
And McCoist feels the verdict of the commission had cleared "a black cloud hanging over the club".
"I'm just really hopeful that we can all move forward because, let's not kid ourselves on, the Scottish game is in a place just now where nobody wants it to be," he added.
"Ourselves, in the last 18 months, have been a disaster. Hearts look as though they are really struggling, everybody tells me Dunfermline are struggling.
"There are clubs all over the place who don't have any money and they are suffering.
"I'd be very hopeful that common sense now prevails and we can all get together to move forward."
Meanwhile, Rangers have announced a new shirt sponsorship deal for next season with Blackthorn.
"The deal we have reached is very much in keeping with our business plan and strategy of developing significant commercial partnerships for the benefit of the club," said Ibrox chief executive Charles Green.