Swansea chairman Huw Jenkins hits out at football's big spenders
Last updated on .From the section Football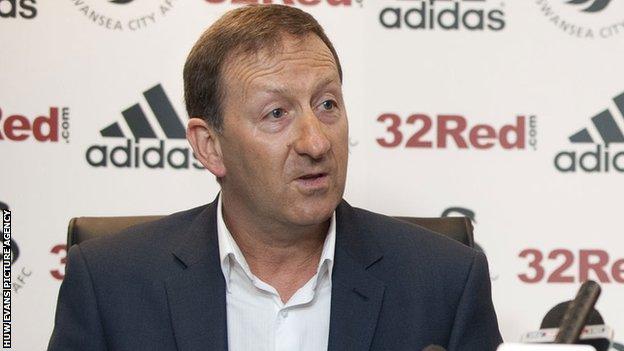 Swansea City chairman Huw Jenkins says too many people in football equate a club's ambition with the amount of money it spends.
And he says the Swans will continue the prudent approach which has seen them rise to the Premier League without incurring major debt.
"I don't like the idea that... ambition relates to spending money," he said.
"[It's] sad really that there's not more people that put the emphasis on hard work and common sense."
Jenkins took over as chairman in February 2002 when Swansea were playing in English football's fourth tier.
He has seen the club rise through the divisions to the top 10 in the Premier League.
And the Swans picked up their first major English trophy when they beat Bradford 5-0 in the Capital One Cup final at Wembley on 24 February.
Speaking on BBC Radio Wales' Back Page programme, Jenkins said Swansea's success showed there was more to winning than just money.
"I think people lose sight of that approach," he said.
"It's one of the problems within the game that's been there for years that so many people watching the game and within the game judge ambition based on using the cheque book.
"I don't see where that comes from."
The Swansea-based businessman confirmed that the club have submitted plans to increase the capacity of the Liberty Stadium.
The Swansea City Council-owned ground currently seats 20,745, making it the second smallest stadium in the Premier League.
However, Jenkins remains cautious about the development.
"We have plans that have been submitted to take the capacity to maybe 30 to 32 [thousand]," he said.
"But that will be done in two stages and it needs to be done in conjunction with us staying in the Premier League and making sure that we sell-out and maximise what we've got first.
"So that will be done in two stages between now and probably the 2014-15 season - but we haven't finalised anything yet on that score.
"They [ground developments] have to be done in a way that we don't overstretch ourselves. We're very mindful of that."