Racism in football: New Fifa chief wants tougher sanctions
Last updated on .From the section Football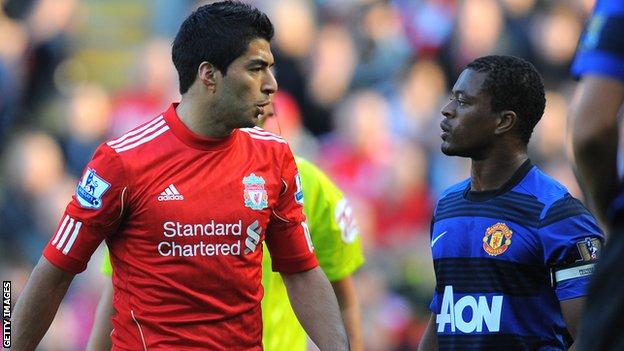 Fifa's new anti-racism chief Jeffrey Webb believes tougher penalties like relegation and exclusion from major tournaments need to be introduced.
Webb says financial sanctions are not a deterrent and a "zero tolerance" approach must be enforced.
"With the money that's involved in football, I don't think fines are working," said Webb.
Webb is also planning a meeting with victims and perpetrators of racism during a visit to England this year.
The 48-year-old, who will also meet with Football Association chairman David Bernstein in late March or early April, wants to see how the FA responded to the Luis Suarez and John Terry cases.
Liverpool's Uruguayan striker Suarez was given an eight-match ban and a £40,000 fine by the FA after being found guilty of racially abusing Manchester United's Patrice Evra in October 2011.
Months later, Chelsea captain John Terry was suspended for four matches and fined £220,000 for racially abusing Queens Park Rangers defender Anton Ferdinand.
Asked about the two cases, Webb, from the Cayman Islands, said: "It is a huge concern to be honest. During a game for me, it is unacceptable.
"The FA has been very aggressive in its campaign and I think if these incidents do exist in an environment such as the Premier League then it begs the question what happens in some other leagues where they don't have the resources and the will and the desire as the English FA has had over the years?
"I will be meeting with the FA chairman David Bernstein and visiting the FA. At that time I would also like to meet with some of the players, perhaps have a round-table discussion to talk to the players and get their input, get some suggestions from them and learn what their experiences are.
"Obviously there's a number of players who have been victimised, targeted. We would like to hear both sides."
A 'three strikes and you're out' rule is one option which the Fifa board is considering implementing for racist offences.
When asked what his taskforce will now discuss, Webb said: "Three strikes and you're out.
"What happens after the first time from a warning standpoint? What happens after a second time? Do you get relegated? Are you booted out of the competition? These are things we will look at and examine."
Webb, speaking in Edinburgh at the International FA Board, also said that black players had been let down by football's authorities.
In January, AC Milan midfielder Kevin Prince-Boateng walked off the pitch during a friendly against Italian lower division club Pro Patria because of racist chants.
"We've been talking for a long time in football and I don't really think that we've supported the players," he said.
"I don't think we've necessarily put the right sanctions in place to support them. It's a travesty that it comes to that.
"Fifa and the governing bodies have to make sure that players like Kevin Prince-Boateng and players around the world have the same rights and opportunities. I really don't think that financial instruments in today's world are enough to deal with it."