John Robertson keen on return to Hearts as manager
Last updated on .From the section Football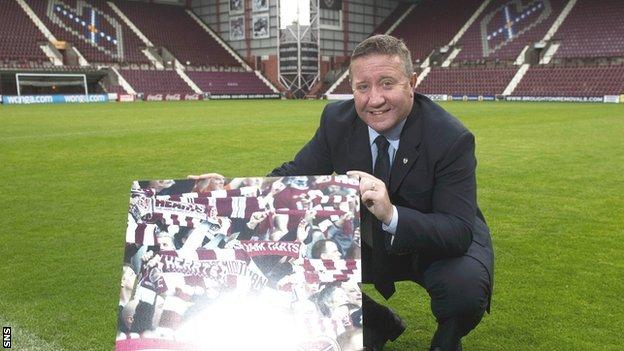 John Robertson would be willing to return to Hearts as manager should the Tynecastle club make an approach.
John McGlynn vacated the post on Thursday and coach Gary Locke has been put in charge for Saturday's match against Motherwell at Tynecastle.
Robertson, Hearts' all-time leading scorer, had a short spell in charge in season 2004-05.
And he told BBC Radio Scotland: "Would I go and help the club? Yes, of course I would."
Financial problems have beset Hearts this season and a share issue was launched to raise working capital.
First-team players David Templeton, Ryan McGowan and Andrew Driver have been sold this season and McGlynn, despite fielding a youthful side as the playing budget was cut, paid the price for a poor run of results.
"Obviously, my name's been linked. I'm out of work," Robertson continued.
"I've stepped forward to help with the share issue, which was needed.
"There's still a shortfall there, there's still work to be done. It did galvanise the fans, it did bring everyone together but that's a different issue, that was a financial issue.
"Football-wise, it's up to Hearts. They're the ones with all the aces, they'll have had lots of enquiries, they'll have had lots of notes of interest. They have to get it right for the club, they have to look through everything and take everything into consideration and then make the decision that they feel is best to take the club forward.
"If I'm part of that, then I'll do my very, very best. If I'm not, then good luck to the person who gets it."
McGlynn was Hearts' 11th manager in eight years as trigger-happy majority shareholder Vladimir Romanov fired the likes of George Burley, Valdas Ivanauskas, Csaba Laszlo and Jim Jefferies.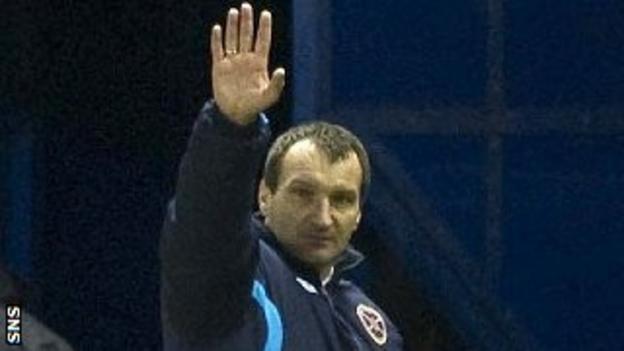 "It's run completely differently to any other club," Robertson observed.
"I think it's getting slightly better because I don't think Vladimir Romanov has any real influence on the team selection any more.
"Yes, there was still an influence from the board as to who was coming in and who was going out. But, as they're trying to sell the club, I genuinely think that's becoming less and less.
"The club's still under huge financial pressure. They are trying to sell the club actively so any new guy going in will have to take that into consideration.
"The new owners may well, as Vladimir Romanov did when he first came in, have their own man in mind for it. There's lots to add up.
"Hearts may go for a short-term solution until the end of the season to give them more time and then see where the sale of the club is. They may not, who knows?"