Inverness CT: Terry Butcher says spat with Derek Adams was fun
Last updated on .From the section Football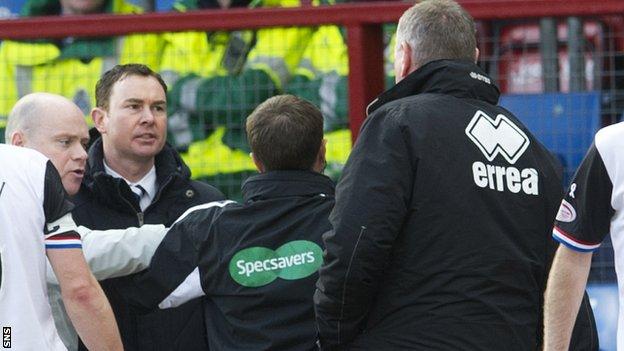 Inverness manager Terry Butcher played down the seriousness of his touchline spat with Ross County boss Derek Adams.
"Derek was saying things and I was saying things," said Butcher. "He wasn't swearing but I was. It got a bit heated.
"It was good fun, handbags at 10 paces. I was just trying to deflect the referee's attention from my player."
And Butcher continued: "I'll go down and have a nice cup of tea with Derek, I'm sure."
Although the season's previous Highland derbies had served up a feast of goals, this one provided none.
"I think the ambulance came at the right time at the end of the match to take the ball away," Butcher joked.
"I think we started with the same ball we finished with but I don't know how!
"It was a typical derby. The ball was there to be won and both teams were superbly committed.
"Both teams deserve praise, they had a right go at each other. I don't think any team deserved to lose and it's two great points for the Highlands."
County's Evangelos Ikonomou had a first-half shot deflected wide and Mihael Kovacevic was unfortunate with a decent effort in the second.
Caley Thistle had a late penalty claim when Ikonomou appeared to foul Graeme Shinnie in the box, but Shinnie was booked for simulation.
"The first Highland derby was great because you had a whole week to build up to it," said Butcher.
"All the other derbies since then have come when there's been midweek matches as well and you don't get a good run at it.
"If both teams have a break before it you get a much better match.
"We thought we did [have a good penalty shout].
"Ross County's players said to Graeme Shinnie that they got away with that one.
"On another day it could've been given but I don't think either team deserved to lose today."
Butcher also gave a special mention to defender Gary Warren, who signed a new contract on Friday, with more players expected to do the same soon.
"He must've headed about 100 balls today," he said.
"I think his head's sore, he's got a depressed forehead now because he's headed so many balls - he'll end up looking like me."