Manchester United v Real Madrid: How to stop Cristiano Ronaldo
By Andy West
Spanish football writer
Last updated on .From the section Football344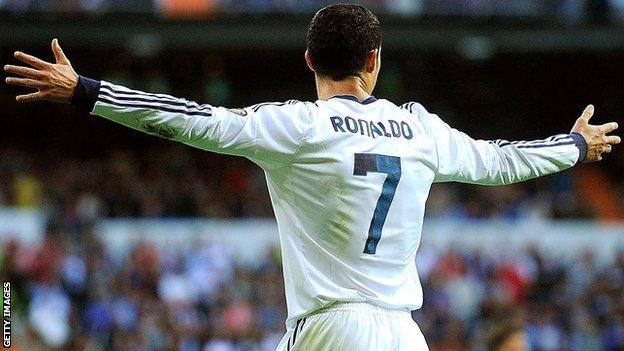 It's hardly a great revelation to suggest the biggest threat faced by Manchester United in Tuesday's meeting with Real Madrid will be former Old Trafford hero Cristiano Ronaldo.
But the question "how do you stop CR7?" is far from straightforward.
One obvious answer, especially for such a positive team as United, is to decide that attack is the best form of defence. After all, if the ball is inside Real's half, Ronaldo can't score.
However, that would be playing straight into Jose Mourinho's hands because his team are masters of the lethal counter-attack. As they showed in Tuesday's mightily impressive 3-1 Spanish Cup victory at Barcelona, they are more than happy to sit deep, defend with intensity and then produce the killer sting of a rapid transition into attack.
Ronaldo is central to this strategy because of his unparalleled ability to run with the ball at high speed. But he's not alone: team-mates Angel di Maria and Mesut Ozil, in particular, are also deadly on the break, and Ronaldo frequently charges downfield to profit from their swift runs forward.
That's exactly what happened for Real's second goal at the Nou Camp last week. Barca were attacking, with Mourinho's men penned back inside their own area; seconds later, Di Maria had broken forward, outpaced Carles Puyol and fired in a shot that Jose Pinto could only parry into the path of the onrushing Ronaldo for a simple finish.
The lesson for United, then, is to rein in their natural gung-ho attitude, exercise caution and make sure they don't commit too many men forward. Even when they are attacking, it will be imperative for the Red Devils to leave sufficient numbers in defence to handle Real's counter-attacks.
This will also be a test for the Old Trafford crowd, who should show patience rather than demanding their team's usual all-out attacking style.
Of course, none of this is news to Sir Alex Ferguson. Nobody has a greater appreciation of Ronaldo's wide-ranging abilities than the manager who signed him from Sporting Lisbon in 2003 and enjoyed the fruits of his talent for six seasons.
Ferguson will be well aware that Ronaldo's favourite ploy is to cut inside from his starting position on the left and find space to shoot, so the United boss is likely to instruct his players to channel the danger man into wide areas whenever possible.
United will need more than one player to do this. The worst scenario is a defender being isolated against Ronaldo without goal-side support. If he gets into a one-on-one situation, he will inevitably either skip past the challenge or be fouled. This happened in last week's Clasico, when he drew a foul from Gerard Pique to win a penalty. Naturally, he converted it himself for the game's opening goal.
Rather than man-marking Ronaldo, the more effective method is to position a series of players to close down his space. He'll probably beat the first man, so there must then be a second defender occupying the right area to prevent him from accelerating. Once he starts running at full pace, Ronaldo is virtually impossible to stop legally, so United should obstruct him before he hits top speed.
This will require disciplined and selfless positional play, with a midfielder - but not Phil Jones now that he has been ruled out with an ankle injury- protecting the edge of the penalty area by occupying the space "between the lines" of midfield and defence in which Ronaldo likes to operate.
United adopted this approach in January when they successfully contained Tottenham's Gareth Bale, using Rafael, Michael Carrick and Jones to restrict the Welshman. A similar strategy on Tuesday could limit Ronaldo's effectiveness.
When Ronaldo does receive possession infield, his first instinct is to shoot, however improbable the range or angle. United players should attempt to push him onto his left foot, thus minimising scoring opportunities.
That doesn't always work, though, because Ronaldo is astonishingly two-footed - as Sevilla discovered to their cost in a recent La Liga game when the Portuguese star scored with an unstoppable 25-yard strike with his "weaker" left foot.
One widely underestimated element of Ronaldo's game is his magnificent aerial ability, demonstrated so clearly with his headed goal in the first leg. United's defenders should therefore be mindful of his propensity to drift inside and attack Di Maria and Ozil's crosses.
And finally, there is Ronaldo's famed ability from set-pieces. Any free-kick near the box will result in Real's number seven crashing one of his swerving, wobbling, dipping thunderbolts towards goal. United must ensure they do not concede soft free-kicks near their penalty area.
So, there you have it. All United have to do is prevent Ronaldo from shooting with his right foot, or his left foot, or getting on the end of crosses. And make sure they don't concede any set-pieces within sight of goal, or leave him any space to exploit on the counter-attack.
Simple, isn't it...?