Shiels laments Kilmarnock defending
Last updated on .From the section Football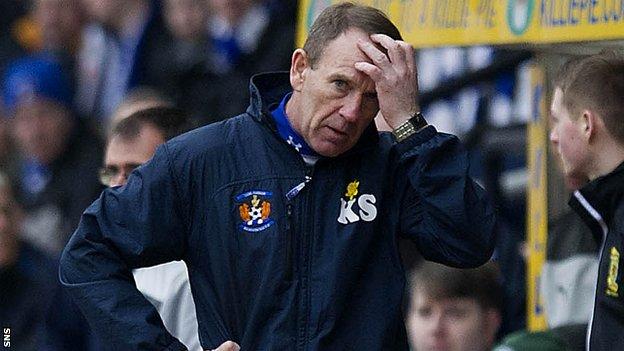 Manager Kenny Shiels was left to rue a series of defensive mishaps as Kilmarnock crashed out of the Scottish Cup, losing 4-2 at home to Hibernian.
"It was self-inflicted," he said. "You can't commit suicide the way we did and expect to stay in the cup.
"If we can't defend long balls, we deserve to get beaten.
"It was a comedy of errors. They kept pumping balls up to our centre-halves and I don't know how they could not defend them."
Leigh Griffiths left Rugby Park with the match ball, having knocked in a hat-trick and the Hibs striker proved a real handful for the home side.
He raced through to drill a shot under Cammy Bell before James Dayton levelled.
A ludicrous mix-up between Bell and Mohamadou Sissoko then gifted Matt Done a goal to send the visitors 2-1 up at the interval.
Killie replied from a Paul Heffernan spot-kick but Griffiths struck twice as the home side imploded at the back, with Sissoko and Bell again culpable for his second and Ross Barbour sent off before Willian Gros conceded a penalty by handling a free-kick.
"Cup games can swing one way then the other," explained Shiels on BBC Radio Scotland.
"But the players who have been doing well, didn't do so well today.
"Sissoko got a head-butt in the stomach early on and he didn't look right after that.
"He looked very indecisive and uncertain, although you have to give Leigh Griffiths some credit.
"We looked the most likely both times we got back into it.
"We were patient and played the game the right way.
"We trust people to receive the ball properly and make the right pass. We work on it in training all the time
"I'm so disappointed because the cup was important to us and we wanted to do well.
"We knew we would need to defend long balls and we didn't. It's as simple as that.
"That's how they got all of their goals. It was poor play from us. Basic schoolboy defending, we let ourselves get pushed off the ball.
"I've been at all of Hibs' games in the cup and their name is on it. Sometimes you just need to accept that."