Man Utd v Real Madrid: Cristiano Ronaldo - how do you stop him?
Last updated on .From the section Football275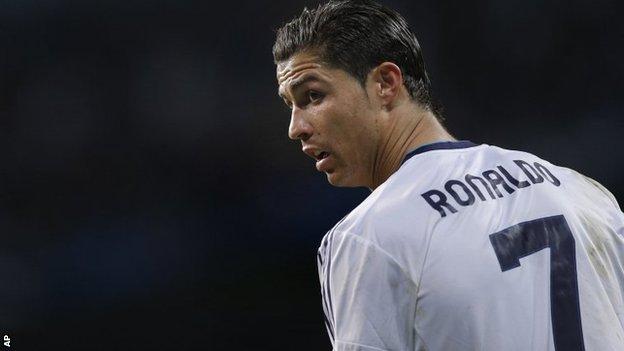 All eyes will be on Real Madrid's Cristiano Ronaldo when the former Manchester United star returns to Old Trafford on Tuesday for the second leg of their Champions League tie.
The 28-year-old scored 117 goals for Sir Alex Ferguson's men before moving to the Bernabeu in 2009 for a record £80m fee.
He has since scored 185 times in 184 games for Real Madrid, including 30 in 35 Champions League games.
So can anybody stop him? And, if so, how?
Former Reading right-back Graeme Murty played against Ronaldo on four occasions between 2006 and 2008... and Ronaldo scored four times.
Now a coach at Southampton, Murty tells BBC Sport what he learned from marking the Portugal international.
An intimidating experience
Ronaldo was definitely the most difficult opponent I ever faced because of his all-round skill-set - he's quick, strong, excellent with both feet and powerful in the air. He possesses such an array of threats that even if you manage to negate one, you leave yourself open to other avenues of attack.
Playing against him is an intimidating experience for any defender, because you know you're coming up against the most gifted individual you'll ever have to face in your entire career.
It's not just his ability, because he's also very intelligent. I think he 'profiles' his opponents during the game better than anyone else in the world. By that I mean he'll very quickly assess the defenders he's up against, work out their strengths and weaknesses and how he can exploit them.
Some defenders like to adopt a physical approach against creative players - putting in a couple of strong early tackles to let him know you're there. But that's a very bad idea against Ronaldo!
Before my first game against Ronaldo, I spoke to Darren Fletcher at United, who was my team-mate with Scotland at the time. He just gave me one piece of advice: don't kick him. If you do that, you'll make him angry and he'll try to make you look as bad as possible for the rest of the game. He'll react by tormenting you and making you wish you never had to play football again!
I remember that game clearly. It was just after Reading had been promoted in 2006. United were the first big team we'd welcomed to the Madejski Stadium, so it was a massive occasion for the club.
We got a penalty through Kevin Doyle and were leading inside the last 20 minutes, but then Ronaldo got the ball on the left wing and started to run at me. It was the first time all game that I couldn't quite get out to him quickly enough, and of course he ran past me and smashed it into the bottom corner for the equaliser.
After the game I spoke to our centre-half Ibrahima Sonko, who said he was half a second from getting there to cover for me. So I was half a second away from closing him down, Sonko was half a second away from covering, and that tiny window was all he needed to score.
I also remember Lee Dixon saying to me afterwards that I should have shown Ronaldo down the line instead of letting him come inside. I just laughed and said: "How on earth are you supposed to stop the best player in the world from going where he wants?!"
Stop the supply line
If you're playing against Ronaldo, the first point is to try to stop the lines of supply so he doesn't get easy possession. That's difficult because he drifts all over the pitch, so the next step is to make life difficult for him when he receives the ball.
He's very good at using his feet or playing quick one-twos to get past the first line of defence, so you need to surround him with a layer of defenders, with the first player trying to push him towards his team-mates who are covering.
Defenders can allow Ronaldo to 'have' certain areas on the pitch, such as wide positions where he can't harm you as much. You just have to make sure you stop him from marauding into the areas where he wants to go - around the edge of the box. Ideally, he wants to get defenders backing away into the box. And if he does get you going backwards, your two options are to foul him or hope you can slow him down enough for someone else to catch him.
The biggest success I had against him was on the opening day of the 2007-08 season, when we managed to get a 0-0 draw at Old Trafford.
Our manager Steve Coppell got us to play an unusual style, man-marking their attacking players all over the pitch. The idea was that our defenders purely focussed on getting tight to them and disrupting their first touch, with a couple of spare players to provide cover. It was probably the toughest game I ever played, both physically and in terms of the level of concentration required throughout the 90 minutes.
Even though we played very diligently as a team and were delighted to keep a clean sheet, we still couldn't stop Ronaldo completely and were fortunate that our goalkeeper Marcus Hahnemann was in good form.
Work as a team
Even on a relatively quiet day, Ronaldo will still create chances for himself.
Obviously he's extremely dangerous on the counter-attack, so United will need to be wary of that. Normally at Old Trafford, United want to be the dominant force.
But on this occasion they've got to ensure they don´t leave themselves open to Madrid's favoured way of scoring goals - the counter-attack.
United should attempt to retain possession of the ball as much as possible, even if that means being more patient than normal. And when they're attacking, they should leave at least one sitting midfield player in a defensive position, ready to move towards the ball if Madrid win it.
Essentially, playing against Ronaldo can't just be left to one defender.
You've got to function as an efficient team around him, stopping the supply line whenever possible and not allowing him to play in the areas where he wants.
If you let him get on the front foot, there's only one outcome: you will lose.